'Gossip Girl' Recap: Sweet Sixteen

It may have been Jenny Humphrey's (
Taylor Momsen
) Sweet Sixteen, but she wasn't the only one being surprised on this week's episode of
Gossip Girl
. Chuck (
Ed Westwick
) was surprised to find Blair (
Leighton Meester
) and Nate (
Chace Crawford
) canoodling in the early morning hours. Vanessa (
Jessica Szohr
) was surprised to find this news out from Chuck. And Serena (
Blake Lively
) was surprised to realize she was living in a rut.
Serena, to alleviate her rut, decided to take it into her own hands to throw Jenny a smashing birthday party. Her plans, however, were slightly disrupted when Jenny told everyone that she didn't want a birthday party unless it consisted of a crock pot full of chili, board games and a small intimate gathering. After running into her friend and fellow socialite Poppy, Serena decided to have Poppy help convince Jenny that she wanted a classy gathering for her birthday party. Poppy, more or less, convinced Serena that she needed to get out of her funk and throw the party despite Jenny's feelings about the matter. At this point, Serena's selfish side took over and threw the party to prove to Poppy that she still had a fun side. Jenny, on the other hand, didn't think it was so fun to have a birthday party where people didn't even know her or realize it was her birthday. Jenny blasted Gossip Girl with news of a rager at the Van der Woodsen house and flocks of overly hormonal teens showed up at the door. The apartment was destroyed and Dan (
Penn Badgley
) and Serena ended up stopping more than one teenager from having unprotected sex. Eventually the cops showed up, alongside Rufus (
Matthew Settle
) and Lily (
Kelly Rutherford
), and sent everyone packing. Lily wrongfully accused Serena for causing the mess, causing Serena to take off for Spain with Poppy.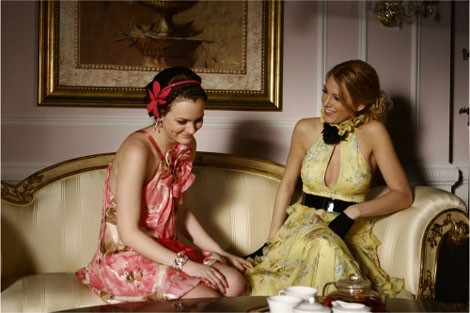 While things at the party got out of hand, so did things with Vanessa, Chuck, Blair and Nate. This little love square reached its boiling point after Nate and Blair both lied to their respective counter parts about their interaction with one another. Chuck thought of the only revenge he knew best, getting into Vanessa's pants - or pretty dress as the case may be. Even though Nate broke up with Vanessa before anything happened with Blair, or so we're led to believe, she took it pretty hard and fell right into Chuck's trap. While Chuck and Vanessa fell into bed together, Nate and Blair decided to actually be together (again) with a romantic kiss in Central Park.
While Dan mostly helped Serena play maid after Jenny's crazy party, he also received both good and bad news. The bad news is he won't get any financial aid from Yale. Good news is he received a fan letter from the story he published in the New Yorker. But, when pushed by Rufus to call this adoring fan, Dan fell into something unexpected. His adoring fan, still unbeknownst to him, is actually his half brother named Scott. But Scott has over protective parents, who weeks back lied to Rufus and Lily about his death. Now, they are under the impression that Scott knows about his real parents. We're going to have to wait until April 20th to find out.
-
Click to View Gallery
Gossip Girl stars:
Blake Lively
/
Chace Crawford
/
Leighton Meester
/
Penn Badgley
/
Ed Westwick
/
Taylor Momsen
/
Jessica Szohr
/
Kristen Bell
/
more
Story by
Beth Wickman
Starpulse contributing writer