'Gossip Girl' Recap: 'Southern Gentlemen Prefer Blondes'

Blair (
Leighton Meester
) may be back with Nate (
Chace Crawford
), but you can't take the conniving
Gossip Girl
out of her. After learning of Serena's (
Blake Lively
) new boyfriend's disappearing acts and lack of commitment, Blair sets out to spy on him. Gabriel (Armie Hammer) is caught in cohorts with supposed ex-girlfriend Poppy Lifton (
Tamara Feldman
).
Blair relays the news to Serena, but she refuses to believe it. Gabriel tells her a story about the new company he's creating and how Poppy holds the key to all his contacts. Since she's running the show, he can't tell her that he's seeing Serena. However, this was just a big ploy to gain Serena's trust…and money.
Chuck (
Ed Westwick
) decides to get in on the action with Blair and help her with her deviant plans. Lily (Kelly Rutherford) threw a party for Bass Industries and Chuck saw it as an opportunity to get Poppy and Gabriel in the same room. Instead, the two put on a great performance, making Serena believe Gabriel's story even more. Unfortunately, Gabriel's lying ways were about to affect even more people. He started propositioning Bass executives for investment funds. Rufus (
Matthew Settle
), being pressed for money himself after being unable to sell his gallery, decided to get in on this investment to help pay for Dan's (
Penn Badgley
) college and a potential engagement ring for Lily. It was obvious Gabriel was being shady when he didn't want to take Rufus' money.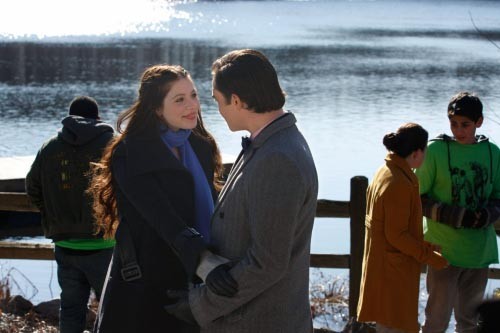 Chuck also spotted a shady Gabriel making a mysterious phone call. Something just didn't add up. Gabriel originally claimed he first met Serena the night she was drugged up by Georgina. However, his facts were wrong. He said they met a club that was allegedly closed that night. Chuck dragged Blair out to Connecticut to figure out the truth from Georgina Sparks (
Michelle Trachtenberg
) herself, the only one who wasn't drunk the night she drugged Serena.
Blair going to Connecticut with Chuck wouldn't normally be a problem, except Nate developed a jealous streak a mile long. Being worried about the future of their semi-long distance relationship, Nate leased an apartment for Blair and him to live together in next year. He also might have told Chuck to never go near Blair again. But, nonetheless, Blair and Chuck spent the night in the limo and awoke holding hands. Uh oh. Old feelings might be brewing. Too bad Chuck told Blair she shouldn't see Georgina, given their recent history. After being left in the limo, Blair took matters into her own hands and went back to the city to find Nate.
Georgina proved Gabriel's story to be a lie. Serena realized this too when she probed him for facts and details about that night. When she came to confront him, however, he had left the building with all the money. Poppy hadn't, though. She stuck around to play little miss actress yet again, claiming Gabriel ran off with half a million dollars.
But, Gabriel isn't he only one running away. Apparently Jesus Camp gave Georgina the day off and she's heading back to New York City with Chuck in a taxi. I'm sure fun times are just around the corner of the Upper East Side.
Story by
Beth Wickman
Starpulse contributing writer