'Gossip Girl' Recap: Serena Flees On A Horse, Nate Has A New Girl

Last season
Gossip Girl
promised a pre-college clean slate to the Upper East Siders, but of course, that didn't keep them quiet over the summer. Nate (Chace Crawford), after apparently ditching Vanessa (Jessica Szohr) in Europe, came home with a new girl named Bree Buckley (
Joanna Garcia
). This new girl just happened to also be part of NYC royalty, and from a family that rivals the Vanderbilts'…Nate's mother's side of the family, for any who might have forgotten.
But it wasn't just Nate living the high life, Dan (Penn Badgley) and Jenny (Taylor Momsen) took a liking to their new summer home in the Hamptons, courtesy of Lily van der Woodsen-Bass-soon to be Humphrey (played by Kelly Rutherford, not seen in this episode, however, due to maternity leave). In the episode, Lily was gone due to her mother's illness. A subplot I conveniently forgot about from last season. Jenny and soon-to-be step-brother Eric (Connor Paolo) tried very hard to keep Serena's summer exploitations a secret from Rufus (Matthew Settle) and Dan. But, just like everything in the Gossip Girl world, nothing was kept a secret for long.
Serena (Blake Lively) returned home swarmed by paparazzi. Rufus believed it was because of her arrest before her departure to Europe, but Eric and Jenny both knew the real reason was her overly public nights on the town filled with liquor and boys. Serena's escapades in Europe soon became knowledge to both Dan and Rufus; both were very concerned and decided to have an intervention with her. Serena wouldn't explain the nature behind her crazy outbursts, though. Carter Baizen (Sebastian Stan) seemed to be the only person who truly knew what Serena did over the summer. But Serena was calling him a stalker, and wouldn't let him near her. While the episode did keep me wondering what Serena was up to in Europe, I couldn't help but feel I was stuck in 1997 watching
I Know What You Did Last Summer
.
Once returning to the city, Dan met up with Vanessa, who was eager to introduce him to her new friend Scott (Chris Riggi). Scott also happens to be Rufus and Lily's semi-illegitimate love child from their previous time spent as a couple. But, no character on the show actually knows that just yet. While Scott and Vanessa seemed to hit it off, it was painfully obvious that Scott just wanted to meet the Humphrey family, to which he actually belongs. And he got his wish. After Vanessa fought with Dan about his new source of income, she decided to try and apologize (with coaxing from Scott) at Nate's family polo match - which Rufus had to attend because Lily had already conveniently bought tickets.
While Nate was pissing off his grandfather with Bree at said polo match, Scott was pushing Vanessa on Dan so he could have some one on one time with Rufus. However, Vanessa's apology to Dan was rudely interrupted by Blair (Leighton Meester). Dan and Blair had conspired to stop Carter from "stalking" Serena. Serena used Carter as an out to draw more attention to herself, though. She ran a polo horse out into the woods, only to be followed by her stalker, Carter, who revealed that Serena was putting herself out in the tabloids so that hopefully her father would pay attention to her. Serena's grand summer escapade was truly a search for her father, who did not want anything to do with her. So, in order to attract his attention Serena decided to literally everything possible to make her face seen all over the world. And, since Serena spent most of the summer with Carter, he knew this. He also hooked up with her in the process. But, that's just how it goes when you're Serena van der Woodsen.
And last but certainly not least, the coupling of Blair and Chuck (Ed Westwick) managed to survive the summer, and be cuter than ever. They found a way to still play their games (humiliate models who go after Chuck) and enjoy each other's company too. After all their drama last season, I'm rooting for them to make it work, at least until Christmas.
While I'm slightly concerned to see how "Gossip Girl" handles the gang in college (at different colleges to be exact), I thought the season premiere did a good job summing up last season and enticing me for what's to come.
Grade: A-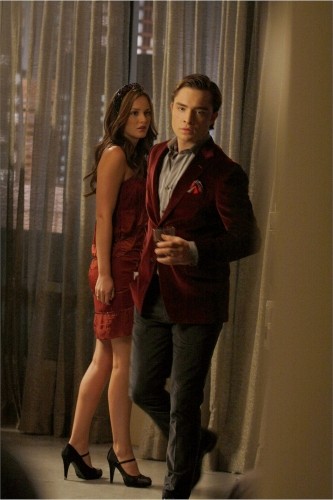 Image © The CW
Gossip Girl stars:
Blake Lively
/
Chace Crawford
/
Leighton Meester
/
Penn Badgley
/
Ed Westwick
/
Taylor Momsen
/
Jessica Szohr
/
Kristen Bell
/
more
Bookmark our 'Gossip Girl' News page & check back for regular episode recaps & news!
Story by
Beth Wickman
Starpulse contributing writer