'Gossip Girl' Recap: 'Seder Anything'

Gossip Girl
celebrated Passover Seder, which meant it was a good time for the writers to find all words that rhymed with Seder…like cater and waiter. Eleanor Waldorf (
Margaret Colin
) and new husband Cyrus (Wallace Shawn) hosted the Seder dinner at their home, but it ended up being a mess - as most things turn out on the Upper East Side.
It all began when Blair (
Leighton Meester
) decided to skip Seder for Nate's (Chace Crawford) cousin's wedding. She thought that Nate had a surprise up his sleeve for her, namely his future cousin-in-law putting in a recommendation for her to be on a particularly rich social committee. Instead, Nate informed Blair that he was going to be attending Columbia in the fall instead of Yale.
Nate's grandfather took slight issue with his rejection of the family alma mater. He came to Blair with a plea to change Nate's mind; Blair, being Blair, decided to ask for a few things in return…like social committee and a pretty bridesmaid's dress. After an unfriendly lunch with his cousin, Nate decided to tell off his grandfather in front of everyone via wedding toast. It came out that Nate's grandfather had his father investigated in the first place. Obviously, Nate was upset, but grandfather smoothed things over by explaining the whole situation and how he gave Nate's father a warning. He then decided to also tell Nate about the deal he had with Blair to help her climb the social ladder. Nate told Blair that she would never change and left her to fend for herself.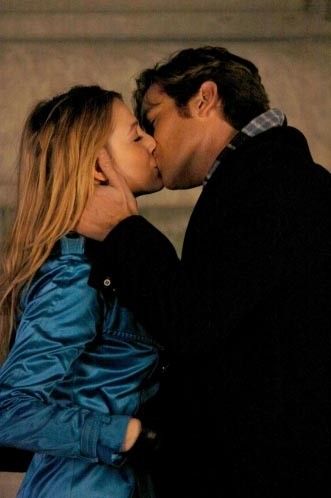 Meanwhile, Dan (
Penn Badgley
) took a job as a caterer to help an aloof Rufus (
Matthew Settle
) offset the cost of college. Little did Dan know that he was going to be a cater waiter at Eleanor's Seder that Lily (
Kelly Rutherford
) and Rufus were invited to. And as even more of a shock, Serena (Blake Lively) was there too. Fresh off her bout in Spain, Serena was confiding in Cyrus about her supposed marriage to a boy named Gabriel (Armie Hammer). Then, Gabriel showed up too. As a defense mechanism, Serena tried to get Gabriel to leave by telling him she was back with Dan. Dan was really just a little jealous and insulted that Serena got married in Spain, but played along. Thinking that their children were back together upset both Rufus and Lily, and completely disrupted the Seder. The truth finally came out, but no problems were really solved. Serena did find that she got accepted to Brown, though.
After the terrible Seder ended, Serena decided to take a chance on Gabriel. She told him that she didn't want to be married and he said they weren't. He just wanted to be her boyfriend. Serena gave in and kissed him, but was distracted by a tearful Blair. Something is up with Gabriel, however, since he went back to Poppy (
Tamara Feldman
) after his eventful evening with Serena.
After Blair and Serena shared a heart to heart, Nate showed up to tell her that he knows she's sorry. After the discussion with his grandfather, Nate went to Chuck (
Ed Westwick
) for some Blair advice. Chuck admitted to Nate that Blair was changing; He realized he'd lost her for the time being and decided to help make his friends happy. Nate wasn't the only one dispensing pleasantries, though. Chuck was found home alone with Jenny (
Taylor Momsen
) after both of their dates, and Nate, left. Jenny reminded Chuck of the little incident at the Kiss on the Lips party last year (season). Chuck realized he's not the best guy around, and apologized to Jenny.
Looks like nothing from the Gossip Girl past is going to be left there; history seems to be repeating itself on a weekly basis.
Click here for tons more TV recaps!
Story by
Beth Wickman
Starpulse contributing writer