'Gossip Girl' Recap: It's A Boy, A Wedding & Sonic Youth

While wedding season may be behind us,
Gossip Girl
tried to bring some ceremonial bliss to the Upper East Side. But, first things first, there was some relationship drama that needed to be sorted out before anyone could have a 'happily ever after.'
Dan (Penn Badgley) was left all by his lonesome while new movie-star girlfriend Olivia (
Hilary Duff
) was off on an Asian press/movie tour. While Olivia had left, Georgina (
Michelle Trachtenberg
) had come back to play, or pounce as the situation might more appropriately be described.
Georgina had gone to Boston to have Scott (Chris Riggi) confide in her that he was Lily (Kelly Rutherford) and Rufus' (Matthew Settle) love child. Of course, she already knew this information after eavesdropping on Vanessa (Jessica Szohr). Georgina found this tidbit of information useful to blackmail Vanessa into getting Dan to break up with Olivia, so she could have him all to herself. Crazy one, she is.
Eventually, Vanessa proved herself to be a terrible liar and she broke down and told Dan the truth about Georgina blackmailing her. With pending nuptials between Rufus and Lily ahead, Dan didn't want to rock the boat. He kept his knowledge of his illegitimate love-child brother a secret and tried to get Georgina to keep her mouth shut too until after their impromptu wedding. However, Dan was a terrible actor and didn't fool Georgina. Maybe she saw one of the ten million Stepfather previews during the commercial breaks. Either way, she knew he was up to something and the pot stirrer grabbed her spoon.
Georgina showed up at Lily and Rufus' quickly thrown together, but beautiful, wedding. With Scott on her arm, she walked up to the arguing couple and said, "Here's your love child; it's a boy, congratulations." She then proceeded to help herself to the free appetizers.
Lily and Rufus were fighting about who knows what the entire episode, but decided to put their differences behind them and chase after their son. The three shared a tender, though way too drawn out, moment. After things settled down,
Sonic Youth
showed up to marry Rufus and Lily. Everyone was happy for them, but some other couples were still having issues.
Blair (Leighton Meester) took issue early on with Nate's (Chace Crawford) new girlfriend Bree (Joanna Garcia). Chuck (Ed Westwick) noticed her surprising interest in Serena's (Blake Lively) new boyfriend Carter (Sebastian Stan). Chuck did the dirty work and found out that Carter left Bree's cousin Beth with a wedding ring and took their family's money. Coming from a rich, southern family, Bree wasn't going to stand for it and used the wedding as a place to hunt Carter down. Chuck gave Carter the option of skipping town, but he tried to come to the wedding and tell Serena the truth. Unfortunately for him, he still left town…only with Bree's family henchmen instead.
Nate then found out that Bree was only using him to get to Carter and the two broke-up. Serena was upset for judging Carter based on his past actions, and ended up sad and alone at the wedding party with no one to dance with.
Oh, and as for Georgina, Blair wouldn't be Blair if she didn't devise some evil plot. She got some German prince fellow to take Georgina out of the country. Sometimes things are just too simple.
Grade: B-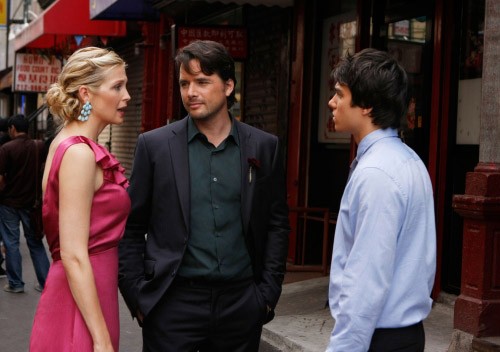 The CW Network, LLC. All Rights Reserved.
Gossip Girl stars:
Blake Lively
/
Chace Crawford
/
Leighton Meester
/
Penn Badgley
/
Ed Westwick
/
Taylor Momsen
/
Jessica Szohr
/
Kristen Bell
/
more
Story by
Beth Wickman
Starpulse contributing writer