'Gossip Girl' Recap: 'Inglorious Bassterds'

After so much recent scandal, the Gossip Girl tank is beginning to run on empty. This particular episode was pushing the multiple week feud between Chuck (Ed Westwick) and Jack (Desmond Harrington) to the limits. With Elizabeth (Laura Harring) supposedly out of the picture, Jack put his offer on the table. He told Chuck that he could get his hotel back if he gave Blair (Leighton Meester) to him - physically.
While concerned about Chuck, and out shopping with Serena (Blake Lively), Blair had a not so chance encounter with Jack where he also laid his cards on the table, planting the seeds of infidelity into Blair's mind. She said that Chuck would never trade her for the hotel and that the two of them would find a different way to win back The Empire.
Unfortunately, Blair was wrong. So, when push came to shove, Blair went over to Jack's and said she would only be with him if he signed the contract giving Chuck the hotel back. He obliged and then proceeded to kiss Blair. The scandalous nature stopped there; sick, twisted Jack decided it would be better to ruin Chuck and Blair's relationship, rather than sleeping with someone who didn't want him. Jack revealed that the whole set up was a con, and that Chuck had already agreed to hand over Blair, without even talking to her. She was utterly mortified, slapped Chuck when she returned home, and told him they were over.
On the flip side of the episode, Dan (Penn Badgley) and Vanessa (Jessica Szohr) were experiencing more (boring) weirdness between their developing relationship and lifelong friendship. Neither wanted to critique the other's written work because they were each afraid of hurting the other's feelings. Or, at least, Dan was. It was revealed to the audience, but not to Dan, that Vanessa's writing sample was for her Tisch Dramatic Writing program entry…as was Dan's. The two are now competing for a limited amount of spots in the program. I hope this breaks them up; they are the show's biggest buzz kill. I was more excited to see Dorota (Zuzanna Szadkowski) get engaged to the doorman than watching these two.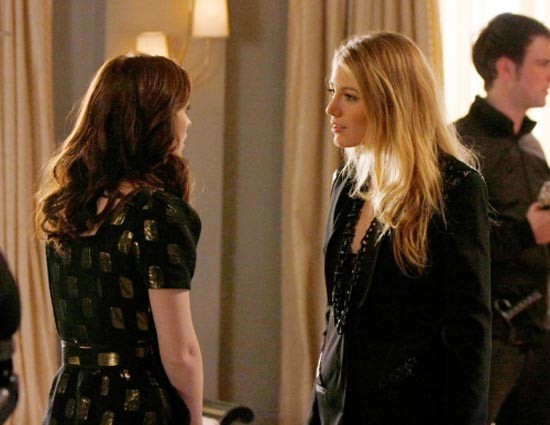 Eric (Connor Paolo) resurfaced this episode, after being MIA for quite some time. He apparently had been in recovery from when his last boyfriend dumped him. He's now back on the prowl. He spotted a handsome, young man who lives in his apartment building during the party that I'll mention later. New romance must be in store, because every other core character on the show is in a boring, happy relationship…well, except that Blair and Chuck are now, maybe, broken up.
And all of these things happened on Nate's (Chace Crawford) birthday. Serena was planning a game of "assassin" as a surprise party for her beau. She was pretending to blow off his birthday while she set up for the party. Jenny (Taylor Momsen) took advantage of Serena's absence and decided to spend some quality time with Nate, milking her previous endangerment to get some sympathy and time out of him; her past feelings have, of course, resurfaced too. After hijacking him, and preventing him from getting to his own party on time, everyone began to play the game. Jenny and Nate became the only two left – slightly to Serena's dismay. They found themselves in a storage pantry. Jenny told Nate she'd let him win because it was his birthday, but when he came close, she kissed him and took his picture away, making her the winner.
Nate became suspicious of Jenny's flirtatious actions, but she laid on the guilt about being drugged last week. Her efforts were futile, though. After everyone left the party, Nate and Serena went upstairs to continue their sex-capades, because seriously, it's just not an episode of Gossip Girl if someone's not getting some.
Story by Beth Wickman
Starpulse contributing writer