'Gossip Girl' Recap: 'How To Succeed In Bassness'

Gossip Girl
was ready to put everyone in the Halloween spirit with a full basket of tricks and treats to go around. Chuck (
Ed Westwick
) needed to seduce new clients to his hotel, and he thought a club opening on Halloween would be just the trick to get everyone interested to visit during the holiday season.
He hired Serena (
Blake Lively
) in her new role as a publicity assistant to help with the club's grand opening. But, sparks flew when Chuck did not want Blair (
Leighton Meester
) to be involved because of the conniving gay kiss incident from the past week.
Chuck was determined to go about opening this club without the help of the Bass name, but an insulted Blair called upon Jack Bass to help procure a liquor license. Blair, or Jack, or a combination of the two, made sure the license was fake, though. A fake license was going to get Chuck shut down for sure, so he made the best of it. He called the cops himself and with Serena bringing in all the celebrities from her boss' rolodex made sure it was a night to remember.
Some of the high class clientele included Olivia Burke (
Hilary Duff
) and her vampire trilogy co-star (and former love interest) Patrick. I have to give credit to Gossip Girl writers for capitalizing on all the vampire craziness nonsense. It also cracks me up when I am watching this story unfold and then see previews during the commercial breaks for both The Vampire Diaries (which I not-so-secretly enjoy) and New Moon (which I loathe with every ounce of my being). Anyway, enough on my personal vampire tastes. Apparently, this Patrick (who we only saw in a brief scene) character's career had fallen off the map since the "Endless Nights" trilogy ended and Olivia broke up with him. Serena's boss wanted Olivia to do more publicity with Patrick, but Serena did not want to break up Olivia and Dan (
Penn Badgley
) so she took matters into her own hands. She revealed to the paparazzi that Dan was Olivia's new "it" guy and gave Patrick some publicity by planting a giant kiss on him in front of the cameras. Part of Serena's job is to now publicly date Patrick, so we'll see how that turns out. Every guy Serena seems to date (besides Dan) somehow ends up fleeing the country, or getting arrested, or something else unbelievably ridiculous.
While Dan and Serena ignore the obvious awkwardness of being step-siblings, their younger counterparts are experiencing some drama. Jenny (
Taylor Momsen
) has fully taken over the reigns of Constance and has her very own minions following her around and doing everything at her will. Unfortunately, this included some hazing of Eric (
Connor Paolo
) and his boyfriend Jonathan (Matt Doyle). Eric and Jonathan went against Jenny's code of conduct and sat above her on the Met steps. This got Eric covered in yogurt and Jonathan egged on his way to Chuck's club opening. Eric tattled on Jenny to Lily (Kelly Rutherford) and so she had to pretend to play nice, but Eric has seen Jenny's new ways. She likes having power, a little too much, and is definitely changing for the worse. The bad raccoon make-up is even starting to make a comeback! There had to be some family conflict, everyone was getting along way too well for far too long.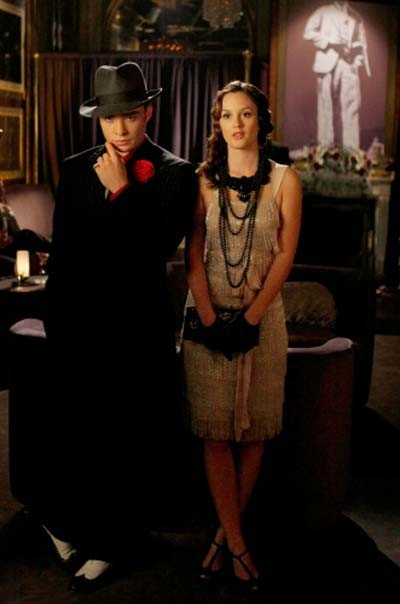 Image © CW
The punch line of the episode came from Lily and Rufus (
Matthew Settle
). Rufus desperately wanted some trick-or-treaters to come knocking on his door, so Lily hired the doorman to bring up little children for Rufus to give candy to (now, that just sounds like a bad Halloween special!). It was nice to see the two of them get along and make some compromises as a couple, though.
Overall, this episode set up some good conflict between Blair and Serena, and Jenny and Eric. Also, Hilary Duff isn't nearly as obnoxious as I originally thought she would be. Maybe this season has a direction after all.
Grade: B+
Bookmark our 'Gossip Girl' News page & check back for regular episode recaps & news!
Story by
Beth Wickman
Starpulse contributing writer