'Gossip Girl' Recap: Gone With The Will

The latest on
Gossip Girl
, Chuck (
Ed Westwick
) needs support. He's needed it for a long time, but been too much a 'Bass' to truly admit it. Until last week when Blair (
Leighton Meester
) took Chuck into her arms and said she needed him to keep trying…to keep being.
Chuck invited Blair to the reading of his father's will. Blair didn't realize that Nate (
Chace Crawford
) was also part of this special V.I.P. treatment, along with the now oldest Bass, Jack (
Desmond Harrington
). Jack was announced as Chuck's new legal guardian… at least until he turns 18. I'm sure the Gossip Girl crew is getting ready for that crazy party. Because, when Chuck turns 18, he'll not only receive his inheritance, he'll also be in control of Bass Industries - potentially making him the richest 18-year-old ever.
Chuck's uncle Jack isn't too happy about this arrangement. I'm sure Bart didn't predict to die so soon, but Jack is really upset that he's not going to be in control of the company, considering Chuck's age and mannerisms. Of course, if Jack wasn't conniving and underhanded he wouldn't even be a Bass. Jack set Chuck up for failure. He hired some prostitutes and kept him out all night, only to surprise him with a celebratory brunch with the board of Bass Industries in the morning. Jack pointed out the "morality" clause in Bart's will and tells Chuck that he messed up, big time. The board took away his gracious gift from his father, and put Jack in charge after all.
And, after all that she's been through, Blair is tired of Chuck's attitude and nonsense. After Chuck disgustedly told Blair to stop playing "wife," she told him that she was done. All that did, though, was add fuel to the already sparked Chuck fire. He won't take this lying down.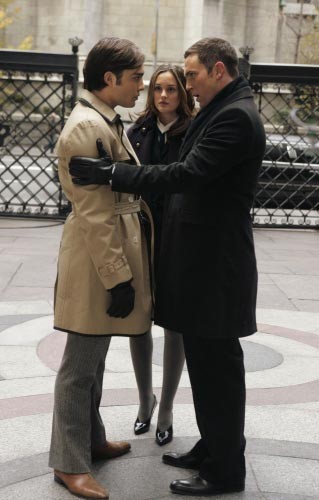 He may not be a Bass, but Rufus Humphrey (
Matthew Settle
) won't take Lily's (
Kelly Rutherford
) nonsense anymore, either. Rufus was determined to go to Boston to contact their illegitimate love child. Luck, on the other hand, wasn't on their side. Lily made a closed adoption, so unless the child wanted to seek out his parents, they had no way of contacting him. Rufus begged the adoption agency to call the parents of their son, to see what could be done. The adoptive father took them up on their plea and met them for lunch. They weren't met with good news, however. The adoptive father told Rufus and Lily that their child had died in an accident, and brought a newspaper article as proof. Of course, as any true soap would do, the audience found out that this was all a big plot device to stall. The adoptive parents are apparently threatened by money and lawyers. The kid is still alive - I'm sure we'll meet him sometime during sweeps. I think there wasn't a picture in that fake news article because Josh Schwartz hasn't decided who to cast as Lily and Rufus' love child just yet.
But, whether he's dead or alive, this child means that Serena (
Blake Lively
) and Dan (
Penn Badgley
) share a sibling. This is not something that Dan wanted to keep secret from Serena, but he promised his dad that he would let Lily tell her children. But, Rufus and Lily didn't factor in Gossip Girl. She's out there…and good, obedient minions are hard to find.
Dan told Vanessa (
Jessica Szohr
) about the child in confidence. There was already a Gossip Girl hit out on Dan because he was being "suspicious and distant" around Serena. Nelly Yuki (Yin Chang) stole Dan's phone at the candy shop where he told Vanessa and all hell broke loose. The girls' got the information and they released it for the world to read. This means that Serena, Eric (
Connor Paolo
) and Jenny (
Taylor Momsen
) all found out at the same time about their shared sibling. It's kind of hard to share a boyfriend and a sibling at the same time. Not to mention, Lily's still in love (and sleeping) with Rufus, but we'll save that love mess for another day.
At the end of the day, the van der Woodsens' and the Humphreys' decided it was okay that they shared a sibling because they were all going through it together. And there was a '
Clueless
' reference reminding viewers that when
Alicia Silverstone
dated her ex-step brother it was okay…and it'll be okay for Dan and Serena too. At least that's what they want us to think, for now.
Gossip Girl stars:
Blake Lively
/
Chace Crawford
/
Leighton Meester
/
Penn Badgley
/
Ed Westwick
/
Taylor Momsen
/
Jessica Szohr
/
Kristen Bell
/
more
Story by
Beth Wickman
Starpulse contributing writer