'Gossip Girl' Recap: 'Dr. Estrangeloved'

After so many weeks of secrecy and lies, this week Gossip Girl took a stab at coming clean with the truth. The first big revelation this episode was about Lily (Kelly Rutherford) and why she's been missing for so long. It turns out that Lily has been hiding because she is "sick" with some form of cancer that apparently only her ex-husband William (Billy Baldwin) can treat. This, of course, made Rufus (Matthew Settle) jealous and angry that William would even suggest that Lily hide her illness from him and the kids. The scope of the matter only proceeded to get worse as William told Lily that her sickness had returned and he would need to continue treatments. Rufus was still upset, but obliged.
William's return was the culmination of what Serena (Blake Lively) had been wanting for years. However, once she was actually placed in front of her father, she didn't know what to say. William said he wanted to give a big speech about regret, but that he couldn't find the right words. Serena said she needed time to soak in everything.
While Serena was off father-searching and soaking, this allowed Jenny (Taylor Momsen) to move in on Serena's man.  Jenny had been spending a lot of time with Nate (Chace Crawford) while Serena was away, including a sleepover at his apartment. When Chuck (Ed Westwick) found her the next day, he helped her plant seeds of infidelity in Serena's head. Chuck was really only doing this to get his friend back, but managed to point out Jenny's finer qualities in the process. Once Serena returned, she was still quite elusive with Nate and would not tell him that her mother was sick. Jenny again used this as an opportunity to convince Nate he deserved better.
This week's main event took place outside the walls of Manhattan. There was an art show in Brooklyn that Dan (Penn Badgley) and Vanessa (Jessica Szohr) were attending. The two were having their own squabble over Vanessa's admission to Tisch's Dramatic Writing program while Dan was rejected. A friend of Dan's had a parent on the Board of Directors and offered to pull some strings. Dan was hesitant, but really wanted the spot. Eventually, the secret was out in the open and Dan and Vanessa ended up on opposite ends of the party. But, Dan didn't come alone to the party. Blair (Leighton Meester) invited herself along to Dan and Vanessa's party in search of a new man to help prove she was over Chuck. Blair initially tried hosting a Bachelorette-like party, but no one showed up. Chuck clearly sabotaged Blair's potential suitors. He also tagged along to the party (with Nate and Jenny) to help make Blair's dating life miserable. Blair ended up meeting a nice a guy, but decided she wasn't quite ready to take the plunge yet. Blair went home from the party and started the mourning process over her and Chuck's relationship.
After the party, Serena came to make amends with Nate. However, Serena walked in on Jenny throwing herself at Nate. Nate rejected this and Jenny left. Serena finally opened up about all the secrets she'd been hiding from Nate and the two seemed to be okay.
The only person now hiding a secret is William. He was talking to someone sketchy about a prescription for Lily. Next week's episode is all about "daddy issues," so surely we haven't seen the last of Billy Baldwin yet.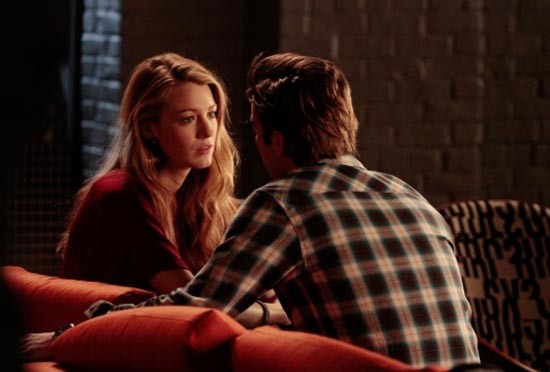 Story by Beth Wickman
Starpulse contributing writer