'Gossip Girl' Recap: 'Chuck In Real Life'

It's finally time for the Bass' and van der Woodsen clan to make a formal appearance as a family for all Manhattan to see. Bart (
Robert John Burke
) has returned from his ever-extended business trip and this means new rules and guidelines that include no going out on school nights and curfews. What's a gossip girl to do with such imposing restrictions? Defy them, of course! Chuck (
Ed Westwick
) teases Serena (
Blake Lively
) for staying in and reading a book while he goes to make a "house call."
This "house" being called upon ends up being none other than Blair Waldorf's (
Leighton Meester
) humble abode. Blair needs Chuck, both literally and physically. Vanessa (
Jessica Szohr
) has gotten under Blair's skin…for no other reason than because she asked Blair to help save a bar from being torn down. Although there was that one little thing, oh yeah, when Blair didn't want to help Vanessa's cause of saving a potential landmark, Vanessa raised the stakes and blackmailed Blair; she threatened to show off the video of Marcus (
Patrick Heusinger
) and Catherine (
Madchen Amick
) together in the throws of passion. Unfortunately for Vanessa, Blair's the only one that does the blackmailing in New York, so she bribes Chuck with her body to humiliate Vanessa.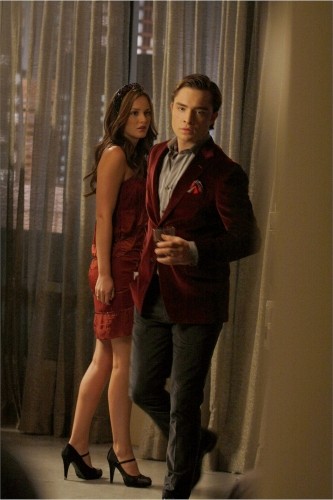 Once Chuck actually visits the snazzy bar down in Brooklyn, after getting a drink thrown at him for being a pretty rich boy, he finds the place rather charming. The owner even says he's the type of guy who would fit in well at a place like this. Chuck likes this sense of belonging since he's lost most his friends at this point and Bart is far from being a supportive father figure. So, Chuck makes a bid on the bar and writes up a proposal for his father…and one for Vanessa. Chuck invites Vanessa to the Bass' family party much to Blair's dismay, I might add. Blair gets jealous, or mad, or some other ridiculous emotion and tells Chuck to stop playing with Vanessa. But, Chuck is not persuaded so easily. Chuck's father, on the other hand, isn't either. Bart believes that buying the bar is a bad idea and it looks like both Vanessa and Chuck are about to get their feelings hurt. Blair does most of the hurting in Vanessa's case, as she explains that Vanessa was just a pawn in her and Chuck's little game. Chuck doesn't feel the same way and seeks some repentance from the bar owner; Vanessa got to him first, though, and Chuck is left alone, again…to a degree.
Blair was still willing to keep up her end of the bargain and was waiting for Chuck in her bedroom dressed in red lingerie. Chuck shows up and asks Blair for the same three words she asked him for earlier in the season. Blair hesitates and says, "Chuck Bass, I…will never say those words to you." Too bad for Blair, Chuck leaves after saying he's tired of chasing her. It's Blair's turn now if she wants him.
Chuck and Dan (
Penn Badgley
) are similar in the respect that they have very few friends. Dan, however, recently acquired perhaps Chuck's only friend, Nate (
Chace Crawford
). After the criminal acts of his father, Nate is left living alone in his Upper East Side home. Nate, also reaching out, invited Dan to join the boys' prep school soccer team. This love of soccer forges a bond between Dan and Nate, but also allows Dan to discover Nate's secret home life. Dan invites Nate to dinner and then asks him to stay on their couch. Nate is insulted by Dan's hospitality and leaves, refusing to admit the truth behind his situation. But, Dan doesn't give up, after advice from his father (
Matthew Settle
) and goes back to Nate's place to see if he'll reconsider.
On the way to Nate's Dan runs into Serena. The two haven't exactly been on speaking terms, but Serena actually embraces Dan's company. Serena earlier in the episode went off on a reporter about her mother's (
Kelly Rutherford
) many husbands. She was very bitter and angry that her mother never acted like family was important, until Bart insisted on imposing these rules to impress clients. Dan and Serena share a moment about their evenings and Serena simply says "I'm glad Nate has a friend like you."
Serena heads home and spills the beans to her mom about what's really bothering her, and Nate heads to the Humphrey home with Dan to get a goodnight's rest. Being so close to Halloween, it's surprising that the Gossip Girl crew is filled with sugar and spice and other things nice…well, except for Blair, of course.
Story by
Beth Wickman
Starpulse contributing writer