'Gossip Girl' Recap: Carnal Knowledge

A week has passed since we last checked in with
Gossip Girl
. Blair (
Leighton Meester
) has finished her detention, which in this case means having Dorota (Zuzanna Szadkowski) picking up trash in Central Park; Serena (
Blake Lively
) hasn't been talking to Dan (
Penn Badgley
), but new teacher Rachel Carr (
Laura Breckenridge
) has managed to have breakfast with him and discuss his short stories.
Even though Blair managed to evade her detention chores, she still had it out for Ms. Carr. She enlisted the minions for help, but they didn't want to be involved and risk their own Ivy League acceptances. But when Ms. Carr and Headmistress Queller (
Linda Emond
) decided that cell phones would be taken away at the beginning of each day, they decided they were in on Blair's scheme.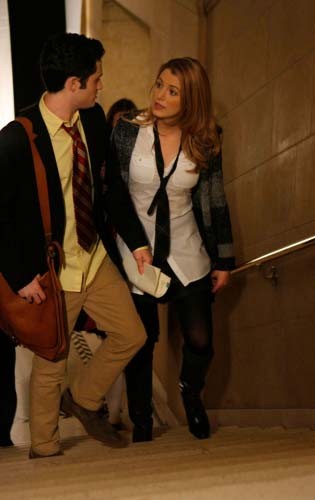 Of course, all the best scheming goes through Gossip Girl, so Blair needed a cell phone. Dorota brought in some contraband cell phones to Blair and the minions so they could find a rumor to post about Rachel. Of course, she was as clean as a whistle. Blair saw Rachel and Dan talking in the hallway and decided to post a rumor about them being together. And even without cell phones, the rumor got around the school. Jenny (
Taylor Momsen
) alerted Dan of the news of him and Ms. Carr just before Serena confronted him about it. Dan denied everything, which at that time was the truth. Serena and Dan both told Rachel about the rumor. This led to Blair getting in trouble, again. This time it meant expulsion.
But being expelled means that Blair will lose Yale forever, so she tells her father, Harold (John Shea), that she didn't lie about Dan and Ms. Carr. Harold, feeling his daughter's pain, then goes off to the school board meeting to defend her honor and get her expulsion revoked. Before the meeting, Serena tried to talk to Rachel about not getting Blair in trouble, but it's futile. Although this chance encounter allows Rachel to forget her planner, which strategically has a coffee house meeting with Dan penciled in. Serena walks up to the coffee shop just in time to catch Dan wiping a tear from Rachel's face and pushing her hair behind her ears, tenderly. Serena snaps a picture on her cell and gives the evidence to Blair. The picture ends up at the meeting and gets Ms. Carr fired and serves as proof to the alleged charges.
Serena feels guilty and tells Dan to meet her at school. He, again, tells her that nothing is going on. Blair tells Dan that the picture was prophetic and not necessarily a lie. Unfortunately for Blair, her father hears this and she loses her daddy's little girl sympathy. Also, unfortunately for Serena, despite Dan's honesty, they decide that again, they are over. And since Dan and Serena are over, and Rachel doesn't work at Constance anymore…of course Dan and Rachel decide it's the perfect time to get it on.
But wait! Headmistress Queller changed her mind and decided to give Ms. Carr her job back. What's poor Humphrey going to do now?
While all this drama was occurring at Constance, Chuck (
Ed Westwick
) managed to spend some time intoxicated only to end up in a hotel room with a stamp on his arm, not knowing what just happened. He also doesn't appear to be attending school. Nate (
Chace Crawford
) and Vanessa (
Jessica Szohr
) are apparently too cool for school, too; they managed to make a brief cameo in the entire episode. What are those two up to?
But, more importantly, what is Chuck up to…or more like what was his father up to? Apparently Chuck was taken to some crazy townhouse for a party. But, since he wasn't supposed to be there (the party was intended for his late father) the masked girls, one named Elle in particular, decided to drug him so he wouldn't remember anything the next day. Chuck spent most of the episode tracking down this mysterious woman. No concrete answers were found, even though the girl was.
Another rerun is in store next week; hopefully Gossip Girl is building up some good stuff for the weeks to come and adding some substance to their seriously lacking characters.
Gossip Girl stars:
Blake Lively
/
Chace Crawford
/
Leighton Meester
/
Penn Badgley
/
Ed Westwick
/
Taylor Momsen
/
Jessica Szohr
/
Kristen Bell
/
more
Story by
Beth Wickman
Starpulse contributing writer