Gossip Girl Fashion: Blake Lively's Patterned Scarf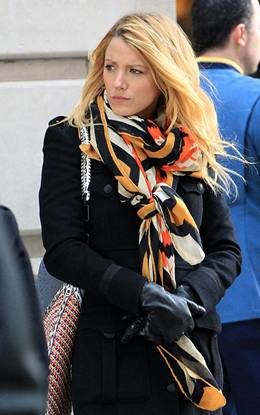 "Gossip Girl" beauty Blake Lively is channeling one of Spring's hottest accessories to sport: the patterned scarf!
Blake was spotted this week on the show's NYC set wearing this Orange Multi Diamonds Tie All Scarf by designer Theodora & Callum ($175).
Not only can you wear this like Ms. Lively does in the photo, but this item can also be transformed into a shawl, pareo, skirt, strapless dress, a beach blanket, & so much more - the possibilities are limitless!
Fashion Fact: Best known in most Native American cultures as the symbol for "wind," the diamond serves as an emblem of protection for its wearer. It's cross pattern represents the four directions of a compass rose—providing safety and direction wherever your travels may lead.
That definitely sounds like a "Serena" style must!