Gordon Ramsay Turns His Attention to Hotels With 'Hotel Hell'
Say what you will about Chef Gordon Ramsay's temperament, but he devotes a lot of time and energy to helping struggling businesses in need. After several seasons trying to rescue failing restaurants with Kitchen Nightmares, first in the United Kingdom and then here in the United States, he's broadened the scope of his efforts with Hotel Hell. Ramsay and his team are now not just salvaging restaurants, but stepping in to help entire properties that are on the verge of failure.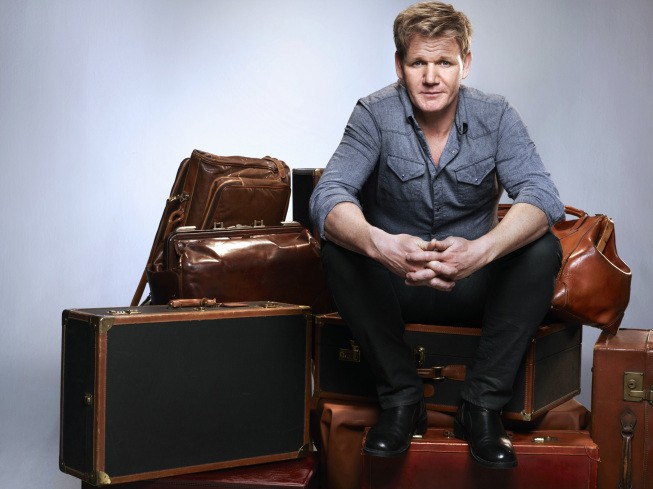 Chef Ramsay recently gave me some time out of his busy schedule to discuss the transition from saving restaurants to helping out hotels, and how he handles the strain of it all - including tonight's premiere episode, in which he meets an owner who may be the most difficult he's ever had to set back on track.
What motivated Ramsay to widen his scope? "I think just on the back of the experiences I've experienced myself personally," he said. "I've stayed in thousands—literally thousands—and I have a small boutique hotel in London at Regent's Park. I think on the back of the ups and downs and the, I suppose the laziness, that I started witnessing coming back from a long day at work or even a holiday with the kids, I always found there was something not quite right within the hotel."
He was also listening to the concerns of the public: "I have e-mails over the last couple years, into the thousands, stating it's all very well fixing restaurants, but there are hotels in dire straits that are ripping customers off," he told me. It's not his first foray into hotels, though: an episode of the UK ​Kitchen Nightmares​ in 2006 focused on The Sandgate Hotel in Sandgate, England, albeit only on the property's restaurant.
For Ramsay, it was not a huge leap to go from one to the other as they share a common fundamental flaw. "Like restaurants, the sad news is with hotels anybody can buy one," he said, "and I've come across some very arrogant, inexperienced owners of hotels. They think that they've got the right to dictate what they should be serving to the public because they bought the place. That's not always the case. And then the fortunate positions of these places, because they're landmark addresses and big buildings, they think that they don't really have to work as hard as they should do because of their position."

While there's a similar naivete that exists between would-be restauranteurs and chefs and would-be hoteliers, he also cautions that the attitudes of the folks at these hotels is actually ​worse​ than those he's seen in the kitchen. "I found the attitudes a little bit more disconcerting, a little bit more arrogant, and almost like they were a cut above the rest of them - 'You'll do as you're told, and I'm an owner, and what I say goes,'" he explained.
Over the course of ​Hotel Hell​'s inaugural season, Ramsay traveled to California, Idaho, New York, Pennsylvania, and Vermont. The first property on his list was the Juniper Hill Inn, which proved to be such a disaster that the show needed two episodes to cover the undertaking.
He used the proprietor of Juniper Hill as an example with which to illustrate his point: "Because they buy antiques, [he] thought [he] had the right to dictate his favorite recipe on the menu, something like forty-seven dollars [in] upstate New York. It was more expensive than my lunch menu in the middle of Manhattan in New York. So yes, to be honest [they're] worse than chefs, and I think pretentious beyond belief."
Obviously, with attitudes like that and so many areas to address, saving a hotel is not a one-man job. To help him in his efforts, Ramsay enlists an entire team, similar to the approach he takes when working on ​Kitchen Nightmares​. When you see him meet an owner on the show, it's literally the first time he's set foot on the property, "but I have a backup team, a research team, and I have members of the production and members of the public actually staying there. I have a huge team, much bigger than we did on ​Kitchen Nightmares​, because the problems, as you can imagine, are so much wider."
The assistance provided by that team extends past the show's production. "I have a wealth of support from a hospitalities organization as a consultancy package that I leave them with," he added, "whether it's the re-modernization of their website, whether it's a repositioning of their sales."
Make no mistake about it, this isn't just a celebrity turning up to make a show. Ramsay holds himself and the employees at his properties to the same high standards that he wants the participants in his series to reach, and is always striving to make improvements at his own businesses. "I have mystery shoppers and mystery sleepers on a daily basis, seven days a week. Every day I have reports, up to twenty, sometimes thirty individual reports," he revealed. "I spend over a hundred thousand dollars a year on paying for complimentary meals in order to get the good feedback I need on a daily basis to handle the volume of customers we deal with."

And he's not claiming to be perfect, either: "We do make mistakes. There's no two ways about that," he said. "But what I can reassure is that we can nip those mistakes in the bud. Nothing festers. Nothing gets out of control. And the bigger we become, I think the more important that we focus on that customer feedback instantly. It's not like waiting for a food critic to come in and eat; it literally is five minutes after their experience. It's viral. We get to deal with it. And we nail it immediately."
But his biggest challenges come from the folks on television, who call him for help and then insist they know what they're doing, even as their business runs into the ground. They're the ones that get into shouting matches with him or walk out on his help. How does Ramsay handle it when he deals with owners who are truly infuriating?
"Sometimes I need a release," he told me, "and do you know how I get a release? I go for a run because running is relaxing. I don't get stressed out; I just get this built-up frustration I need to release. So my release is going for a run. I've taken that run to twelve London marathons, six ultra marathons in South Africa, and I'm currently training for my first-ever Iron Man in Lake Taupo in New Zealand, March 2013."
He still has plenty of challenges ahead, too, adding that "My frustrations are getting bigger, the idiots are getting worse, and I still cannot believe that these individuals are running big hotels with big bills, big amount of staff. The idiotic positions they put themselves and their staff in frustrates me." But if anyone can set these people straight, it's Gordon Ramsay.
Hotel Hell begins its two-night premiere tonight at 8 PM ET/PT on FOX, and continues tomorrow night at the same time. Its regular time slot is Mondays at 8 PM ET/PT beginning on August 20. For more on Chef Ramsay, make sure you check out Gordon Ramsay 101, a primer on all things Ramsay related.
(c)2012 Brittany Frederick/Digital Airwaves. Appears at Starpulse with permission. All rights reserved. No reproduction permitted.