Gordon Ramsay 101: A Primer on TV's Hottest Chef
With Hell's Kitchen and MasterChef, you're seeing plenty of Chef Gordon Ramsay. If you still don't know who he is, here's a primer to get you informed about the chef with four (!) TV shows.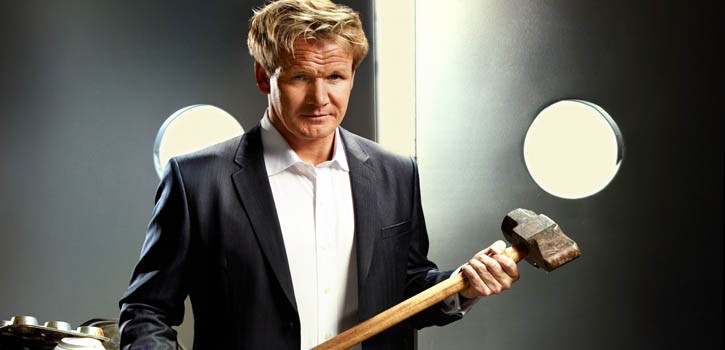 Who is Chef Gordon Ramsay?
Chef Gordon Ramsay is one of the most talked-about chefs currently working in the world today, and certainly one of the most recognizable. He was the first Scottish chef to win three of the prestigious Michelin stars in 2001 with Restaurant Gordon Ramsay, an establishment that still retains those honors as of 2011. He currently holds 12 Michelin stars.
He is also one of only three people to have won three of the UK's "Catey" awards, the biggest awards in the British hospitality industry. And in 2006, Ramsay was named an Officer of the Order of the British Empire (or OBE) by Queen Elizabeth II.
Many people know him for his fiery temper in the kitchen and a personality that is no stranger to - and no shrinking violet from - controversy. He's unafraid to speak his mind and unapologetic if that should upset someone, but he's also willing to literally get his hands dirty to push the people around him to be their best or to save a restaurant in need.
And now, he's become a major TV personality. There was even a Hell's Kitchen video game once...
How many TV shows does he have?
Chef Ramsay has three series currently in production on FOX. In addition to Hell's Kitchen and MasterChef, he also has Kitchen Nightmares, where he ventures across the country trying to save failing restaurants. A fourth show, Hotel Hell, which is the hotel equivalent of Kitchen Nightmares, has its two-part premiere Monday, August 13 and Tuesday, August 14 on FOX.
He is also a TV presence in the United Kingdom. Ramsay led the first season of the British Hell's Kitchen in 2004. There is a British version of Kitchen Nightmares which ran from 2004 to 2009 (predating the American one), which can still be seen on BBC America under the full original title Ramsay's Kitchen Nightmares.
Also in the UK is The F Word (also known as Gordon Ramsay's F Word), a food magazine/cooking show that has run since 2005. This is not counting numerous TV specials/miniseries, some of which pop up on BBC America occasionally.
Ramsay has appeared on numerous other shows, including the UK edition of Top Gear twice (here's one) and as himself in the "The Food Wife" episode of The Simpsons in November 2011.
Interesting tidbit: you can get Hell's Kitchen uncensored (that means with all of the swearing intact) by picking it up on DVD.
What about restaurants?
More than any of us would know what to do with. Ramsay's official site lists a multitude of them, including Restaurant Gordon Ramsay, Gordon Ramsay at Claridge's and Savoy Grill. You can check out a full list of them here.
US fans, you're not left out. The London West Hollywood in Los Angeles, CA has Gordon Ramsay at the London West Hollywood. In New York, there's Gordon Ramsay at The London NYC. And the winner of this season of Hell's Kitchen will earn themselves a position at the newly opened Gordon Ramsay Steak at Paris Las Vegas in Las Vegas, NV.
And cookbooks?
Amazon.com lists 32 books authored by Chef Ramsay. These include cookbooks, as well as his autobiography Roasting In Hell's Kitchen (which is an incredible read even for non-foodies) and a business book Playing With Fire.
Two more releases, paperback versions of Gordon Ramsay's World Kitchen and Gordon Ramsay's Sunday Lunch, are on their way in September.
And the number one question I get asked about Chef Ramsay...
Is he as mean as he appears on TV?
Absolutely not! I've interviewed Chef Ramsay a number of times and found him to be very polite and engaging every time.
I was also lucky enough to meet him last year during a FOX press tour breakfast, and was pleasantly surprised that he greeted me by name and remembered our interviews. He took the time not just to meet me, but to sit down and have a conversation with me. And if that's not enough to convince you, he hugged me.
So, no, he will not bite your head off should you encounter him. Unless, of course, you give him a reason to...just don't burn the scallops!
Hell's Kitchen and MasterChef continue tonight starting at 8 PM ET/PT on FOX.
For more on Chef Gordon Ramsay, you can visit his official website and follow him on Twitter (@GordonRamsay01).For more from Brittany Frederick, visit my Starpulse writer page and follow me on Twitter (@tvbrittanyf).
(c)2012 Brittany Frederick/Digital Airwaves. Appears at Starpulse with permission. All rights reserved. No reproduction permitted.