Goodie Mob Returns After 14 Years With New Album, 'Age Against The Machine'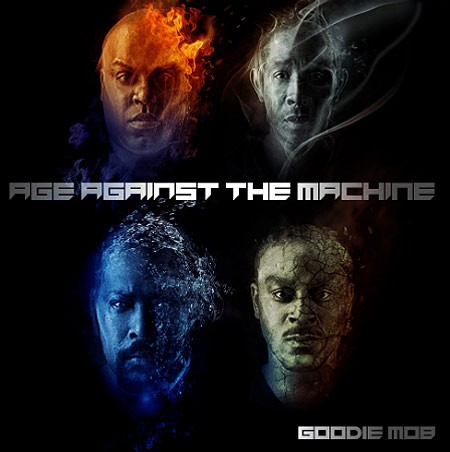 Cee Lo Green's Atlanta Hip-Hop group Goodie Mob is back together after a long hiatus, and the group released a new album, "Age Against The Machine", on Tuesday.

The new disc is the first ablum from the band in nearly 14 years, and Green says it's well worth the wait.

"I know it's exceptional," he tells USA Today. "Quality is imperative. Quartets are almost non-existent in hip-hop. Our collective understanding was to consolidate who we are and invest that energy back into us. We are earth, wind, fire and water."

That message is clear in the cover art for the photo, which features all four original members -- Green, Khujo, T-Mo and Big Gibb -- representing those elements.

Green, who found mainstream success with partner Danger Mouse in Gnarls Barkley, says the group wanted to reunite "before the world writes us off", and that he hopes the new album will change the genre.

"I don't want to do black music or hip-hop," he says. "We have to be bigger than black. I want to do great music. That's our mission statement. We'd like to acquire the color of transparency. This should be a prolonged color of clarity. That's what I want for myself and for people."

The Voice judge also says that those concerned that his mainstream celebrity would get in the way or influence Goodie Mob needn't worry.

"Many people were concerned that I would CeeLo-ize the Goodie Mob, as if to say we were incapable of evolution," the singer told the paper. "To not evolve is ungodly. I would not spray paint over the legacy or deface the monument. I would only polish it. They would much rather call me crazy than brilliant."

"I would like to see hip-hop improve its attitude," he adds.

Green has several projects on his plate currently, including a new solo album, another Gnarls album with Danger Mouse, a book and a reality show with Goodie Mob called "The Good Life".

The group is currently touring until mid-September, after which Cee Lo will return to his judge's chair on "The Voice".

He also says that the reunited group is already hard at work on another album.

"We're 25% into the next album. And it's amazing," he says.

So far "Age Against The Machine" has been getting rave reviews.