'Good Luck Charlie' Cast Talks About Their Christmas Movie And Answers Fan Questions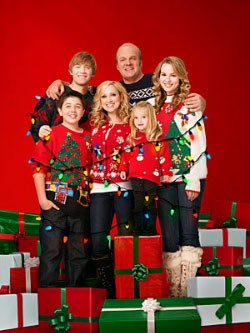 The Disney Channel's Good Luck Charlie is getting its own Christmas movie. Good Luck Charlie, It's Christmas premieres Dec. 2 on Disney Channel, and the show's stars told us what we could expect from their holiday adventure.
"I really enjoyed filming the dance number," Bridgit Mendler said. "I think that was really fun because we'd been preparing that for so long. It was kind of a comedic thing and we were just excited to show that to everybody and actually perform it for real. We had a lot of fun doing it."
For some of the young actors, Good Luck Charlie, It's Christmas reminded them how different movies are from their TV show. "They're different in so many ways, some good some bad," Bradley Steven Perry said. "Mostly it's a lot slower because there's one camera. When we're filming the show, there are four cameras and there's one here, here, here and there. You get it all in four takes but four takes you're only getting one shot. Then they have to move the camera over there to get it from that angle. So you eventually do 12 takes of it in different angles."
The Christmas movie fulfilled a lifelong dream of Leigh Allyn Baker. "I was thrilled to be doing a holiday movie, I've got to confess," Baker said. "I know a lot of actors picture themselves winning Academy Awards. I really just wanted to do a Christmas movie because it's the kind of movie that I really love to watch. I'm a sucker for the holidays. I love to get in a happy spirit of it all and I was thrilled to be doing this."
Getting ready for Christmas, the cast also shared their real life holiday traditions.
Bradley Steven Perry: We go to my aunt's house every Christmas Eve for dinner and just hang out there. Then we also open one present the night before so we always do that and we've always done that. Just little things.
Eric Allen Kramer: For me I always found that I like to have Christmas at the house. My mother was always great at transforming the house and bringing Christmas into the house. I always remembered that as a kid. A lot of people are into maybe going places at Christmas, that sort of thing. I like to bring Christmas into my house for my kids and create that world for them.
Bridgit Mendler: Every Christmas Eve my dad reads "The Night Before Christmas" and that just gets us all in the Christmas spirit and we're all ready to go for the next day. My brother and I are always the ones to hop out of bed early. I don't care if I'm turning 19 this year, I'm still going to hop out of bed at like six a.m. to see what's going on. I'm kind of itching for a Wurlitzer piano, like the old school keyboard types from the '60s. I first heard their sound two years ago and I thought it was the most lovely, magical thing. It sounds so beautiful so I've kind of been itching for that for a while. I have my guitar, I have my program keyboard sort of thing so if I was to go really over the top and hope for another instrument, I would definitely want that.
Leigh Allyn Baker: Well, our traditions have been waking up on Christmas morning and feasting on a southern breakfast. I'm from the south. We eat grits and biscuits and gravy and eggs with Ritz crackers and country ham, bacon, you name it. Also making pecan pies and making Christmas cookies which I used to do with my nieces and this year I'm going to start with my son. I keep saying to him, 'We're going to make Christmas cookies and give them to all of our friends' and he says, 'No, I don't want to give them to friends.' So he's not quite caught on to the true meaning of Christmas yet. He thinks it's about getting all you can while the getting's good.
The actors also answered a few non Christmas questions from some of the fans who tweeted us their inquiries:
Q: What has been your favorite episode of the show?
Bradley Steven Perry: My favorite episode I think was when we went on our family trip up to a ski resort and me and Jason had to find money. We went ice dancing as our way of getting money. That was really fun because we had these flaming costumes and we were all decked out, we had our hair all crazy. I had a Mohawk, Jason had a pompadour. We danced on ice and had fun.
Bridgit Mendler: I really like the Battle of the Bands episode that we did last season because I was able to work with a lot of my friends. On top of that, we were able to be kind of musical and kind of goofy. So that was a really good time.
Q: We have a reader who said her favorite was when Spencer kisses you and you say, "That's a nice way of telling me to shut up."
Bridgit Mendler: Oh yeah, that was our first kiss in season one. I thought that was a cute moment.
Q: Bradley, will Gabe and Jo kiss?
Bradley Steven Perry: I don't know. I don't think so. I don't know if they will ever become that close. I think they like each other in a way that they like each other, but they don't like each other. I think they will never have an established relationship that they will enjoy.
Eric Allen Kramer: He wants to kiss her.
Q: Leigh, are you as funny in real life as you are on TV?
Leigh Allyn Baker: Yes. [Laughs] My kid thinks so.
Q: How many hours a day can Mia work on the show?
Leigh Allyn Baker: I think she can work four hours a day but she doesn't work the whole time. She comes just on shoot days, two days a week.