Good Charlotte Taking Music Hiatus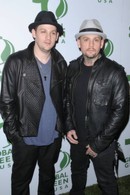 Rockers Good Charlotte are stepping away from the spotlight and taking a hiatus from the music industry to "just have fun."

The "Lifestyles of the Rich and Famous" hitmakers, fronted by twins Benji and Joel Madden, wrapped up a tour of Europe last month and have just one more gig scheduled at a music festival in Russia in October.

The punk stars are then planning to take some time out from their busy work schedules to just enjoy life.

Benji Madden tells RollingStone.com, "We're stepping away from the grind of making records and touring for a minute, just to have fun and be creative like we were when we were 15."

But the twins are preparing to serve up a treat for fans before they go on their career break - a free mixtape, titled "Before The Fame: The Madden Brothers," will be released on October 1.

And Joel Madden has alerted fans to expect some cool new sounds.

He says, "We're already having a blast in our studio with all these new artists making music just for fun. And the mixtape's free, they're going to get it for free, there's no quota we're trying to fill, there's no machine we're trying to fuel, we just want to make music with new artists and god bless (record label bosses at) EMI, they let us do what we want."