Goldie Hawn Goes 'Overboard' Partying In London (See Pics)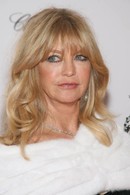 Kate Hudson and her fiance Matt Bellamy turned out in London on Wednesday night to support the actress' mother Goldie Hawn at the U.K. launch of her children's charity.

The stars were all smiles as they posed alongside the Overboard actress at private members club Annabels to mark the start of the Hawn Foundation in Britain.

The 66 year old founded the charity, which teaches Buddhist techniques in schools across America to give children emotional stability and curb violent outbursts in the classroom, in 2003.

With her dress all bunched up in a wad and her hair as disheveled as can be, Oscar winner needed assistance getting into her car after leaving a party in London on Wednesday.

The ageless 66-year-old grandmother was out until 4AM celebrating.