Golden Globes: 'The Social Network Previals,' Gervais Sails
'The Social Network' was the big winner at Sunday's Golden Globe Awards, with four awards – Best Drama, Best Director (David Fincher), Best Screenplay (Aaron Sorkin) and Best Score.  'The King's Speech' – which led in nominations with seven – came away with just one win, for Best Drama Actor (Colin Firth).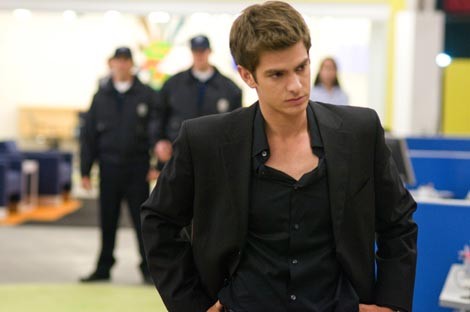 'The Kids Are All Right' re-emerged in the Oscar race with two wins (Best Comedy – and how could it NOT win that given the competition?) and Best Comedy Actress for Annette Bening (ditto).  And 'The Fighter' takes the lead in the supporting races, with Christian Bale and Melissa Leo coming up aces.
On the TV side, 'Glee' dominated the comedy categories, winning best comedy and supporting honors for Chris Colfer and Jane Lynch (who, oddly, lost the award last year).  'Boardwalk Empire' edged 'Mad Men' for Best Drama and Best Drama Actor (given to Steve Buscemi), and Katey Sagal picked up a surprise win for 'Sons of Anarchy.'

The real story of the night, though, was host Ricky Gervais.  You may have seen the headlines today – "Ricky Gervais: Funny or Rude?"  The answer is both.  His quips were hilarious – although they were perhaps better-suited to being uttered from the couch while watching the Golden Globes as opposed to hosting the show and introducing the presenters he was zinging.
Some of the best (or worst, depending on how you look at it) quips of the evening:
-"I'd like to quash this ridiculous rumor going around that the only reason 'The Tourist' was nominated was so the HFPA could hang out with Johnny Depp and Angelina Jolie. That is rubbish. That is not the only reason. They also accepted bribes."
-"Next up, Eva Longoria has the daunting task of introducing the President of the Hollywood Foreign Press. That's nothing, I just had to help him off the toilet and pop his teeth in."
-"Also not nominated, 'I Love You Phillip Morris.' Jim Carrey and Ewan McGregor, two heterosexual actors pretending to be gay... so the complete opposite of some famous Scientologists, then.  My lawyers helped with that joke."
-(On presenter Robert Downey Jr.): "But many of you in this room probably know him best from such facilities as the Betty Ford Clinic and Los Angeles County Jail."
-Final line of the night: Gervais thanked none other than God, "for making me an atheist."
Other highlights:
Best save: Andrew Garfield, who jumbled the phrase "inspiringly written" by making light of himself
Most enthusiastic winner: Melissa Leo, showing off her trophy and yelling, "Mom, I won a Golden Globe!"
Most verbose winner: Tie between Al Pacino and Robert De Niro
Most poignant recipient of applause: Michael Douglas
Most genuine and gracious winner: Claire Danes, who seemed quite moved to be hugged by the real Temple Grandin
Best presenter: Robert Downey Jr., who brushed off Gervais' quips and quickly moved on to his strangely funny introduction of Best Comedy Actress nominees
Best platonic love affair: Annette Bening and Julianne Moore
Most witty winner: Jane Lynch, as usual, calling herself "falsely humble"
Most swacked winner: surprise victor Paul Giamatti, who overdosed on chocolate and unfortunately admired Halle Berry in the same sentence
Most poignantly absent winner: Laura Linney for 'The Big C.'  Linney lost her father, playwright Romulus Linney, only the day before
The Golden Globes are famous for not generally having hosts.  Many have said this was probably Gervais' last shot.  What do you think will happen next year?