Going The Distance: Runners & Celebs Turn Out For L.A.'s Nike+ Human Race

As the sun began to set over Los Angeles on the last night of August, the anticipation of the crowd swelling at the Los Angeles Coliseum began to grow. A red sea of Nike+ Human Race t-shirts milled about restlessly, awaiting the start of a 10k race benefiting WWF, the global conservation organization, the
Lance Armstrong Foundation
and the UN refugee agency's
ninemillion.org
campaign.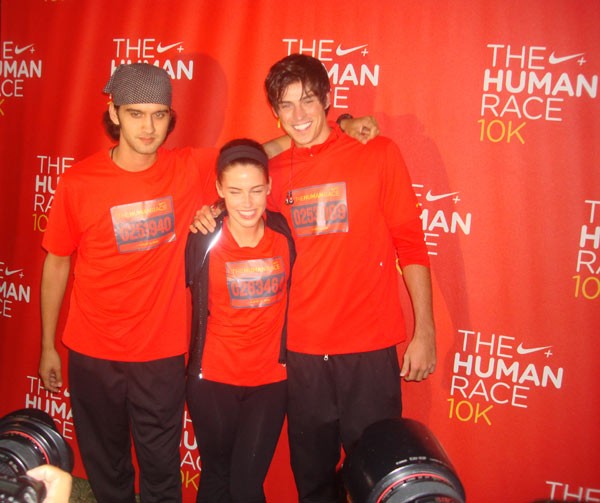 The new '90210' Cast at Nike Human Race - Los Angeles
The 8:30:08 start time for LA actually marked the end of the world's largest one-day running event in history: Beginning in Taipei, an estimated one million runners participated in designated global cities in Europe, Asia, South and North America. Los Angeles was the grand finale and the excitement among racers of all ages, races and fitness levels was palpable.
"My students have been tracking my progress as I trained," proudly declared Mary, a teacher from Costa Mesa, Ca. " It's a lesson for them not only in math, but about giving back." A runner visiting from Holland was taken aback by the enormity of it all. "We're part of something bigger than ourselves right now," he noted, taking it all in.
Cognizant of this, Los Angeles event organizers more than lived up to the expectations. Well-staffed and organized, participants were treated to pre-race spinning courtesy of Power 106, free sustenance sponsored by Power Bar, Bear Naked, Pop Chips and Gatorade and the promise of a post-race concert by nine-time Grammy award-winner
Kanye West
featuring
Common
. Adding to the thrill: Running side-by-side with some of LA's select film and television stars.
Concert host
Randy Jackson
of "
American Idol
" was a visible presence both in and out of the media tent before the race. The cast of the new "
90210
" rubbed shoulders with original Beverly High alums
Jason Priestley
and
Tiffani Thiessen
. Olympic Gold medalists in basketball Lisa Leslie and DeLisha Milton came through and hobnobbed with Jackson, momentarily distracting
Jerry O'Connell
(
Stand by Me
) from our interview. "I can not believe how tall those ladies are… It is incredible. I actually feel short. And that's not often." Meanwhile, an oblivious Leslie made her way over to greet actress
Kimberly Elise
(
Beloved
). "She's such a great actress!" Leslie enthused to a companion.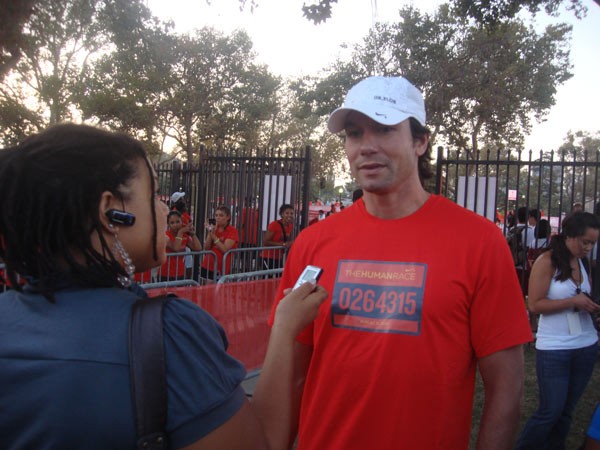 Jerry O'connell with Starpulse reporter Shannon Peace - Nike Human Race - Los Angeles
Not only a great actress, but also a runner with a sacrifice for the cause: "I've been running since I was a kid (but) I've always been a sprinter so this is new," Elise told Starpulse.com. " Now I have a blackened toenail… I'm like a real distance runner."
When this reporter suggested the actress wear sandals to showcase the nail as a badge of honor, Elise demurred with a laugh. "I don't know - it's pretty scary".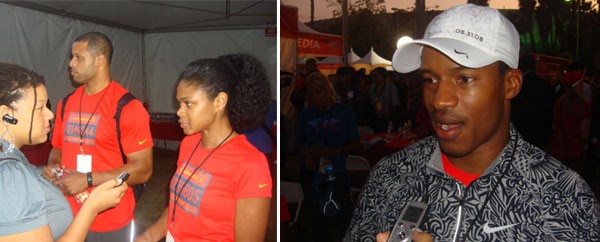 (Left) Kimberly Elise (Right) Nate Parker at the Nike Human Race - Los Angeles
Scary, but worth it: The actress, gearing up to shoot the film Gifted Hands with
Cuba Gooding, Jr.
was clear about her motivation, "I love the cause, I love the overall charity aspect of it. " This was a sentiment echoed by O'Connell, who was rooted on from home by wife
Rebecca Romijn
who is pregnant with twins. "Nike is an extremely charitable company… It's the first race I've ever been a part of. But they say close to a million of us are going to do this."
Among the million was actor
Nate Parker
, who first drew attention alongside
Denzel Washington
in
The Great Debaters
and is active in several social causes. An avid volunteer with the Boys and Girls club, Peace for Kids, 100 men in Excellence and a program he founded in Bed Stuy called Leadership and Literacy through Debate, Parker took the time out of his busy schedule to race because, "I couldn't think of a more noble reason to get off my butt and hit the road."
Despite his athleticism (Parker is an accomplished wrestler), he did admit to some misgivings about running the approx. 6.2 miles. "I actually just a couple of days ago ran 5 miles to see if I could do it," Parker acknowledged with a smile. "If I would have passed out then, I would have known - maybe I should withdraw."
Star of The Game (airs on CW)
Pooch Hall
expressed a similar sentiment. " I'm a little intimidated," joked Pooch, straight-faced. "It's real running". He added seriously, "I want people to definitely recognize that we're not just collecting checks and sipping on Cristal... We're all running and getting behind the cause."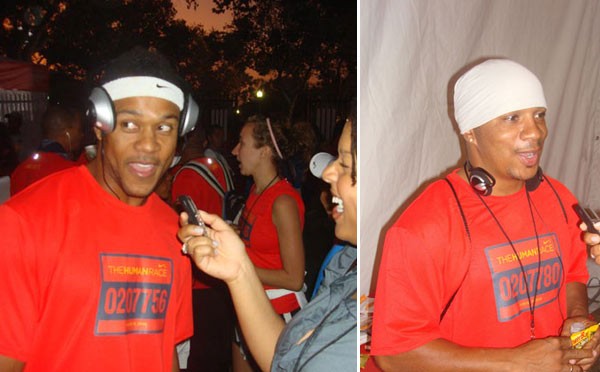 (Left) Pooch Hall (Right) Shane Sparks at the Nike Human Race - Los Angeles
Despite readying themselves for the race, the celebs were generous enough to engage in a little shoptalk to keep Starpulse readers current on projects in the pipeline.
Nate Parker
is heading to Canada this week for the Toronto Film Festival debut of his film
The Secret Life of Bees
opening October 17th (costarring
Queen Latifah
,
Alicia Keys
&
Dakota Fanning
). Pooch Hall recently shot the
Paul Attanasio
pilot "Courtroom K" with veteran thespian
Alfred Molina
and was hyped about the upcoming third season of The Game. "I think the writers took the safeties off and decided to really push the envelope... Hopefully this (material) can take us on to a 4th, 5th, 6th season."
Emmy nominated Choreographer ("
So You Think You Can Dance
") and judge on "
Randy Jackson
Presents
America's Best Dance Crew
"
Shane Sparks
gave Starpulse the first intel on a developing deal. "I just had a big meeting with Nike to do some work, so we might be doing some stuff together."
When asked whether he'll be more of a presence on next season's SYTYCD (he was largely MIA this season), he confided with a laugh, "MTV wants me exclusively. I ain't mad at 'em." Still, Sparks has nothing but admiration for the Fox show. "That show is no joke. It's literally the hardest show in the world." The success of "America's Dance Crew" is "Off the chain. It's just getting bigger and better". Still, SYTYCD fans shouldn't despair: "Hopefully next year we'll work something out. Maybe I can get more time (to choreograph on SYTYCD)".
The time for interviews drew to a close as a mass exodus of runners, celeb participants and Nike athletes made their way to the starting line. Inside the media tent, good lucks were exchanged. "They said there's gonna be an ambulance really close, so I'm holding them to that" laughed Nate Parker, while Shane Sparks geared up with his team from In 2 It Media. "We ain't gonna win, but we're gonna finish".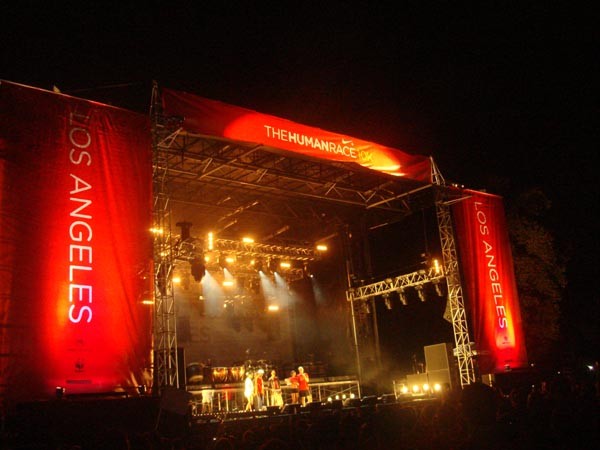 And finish they did. An estimated 12,000 runners participated, and though the official winner was Aaron Sharp (time: 30'38"), all who crossed the finish line had a sense of gratification and pride. "Amazing!" breathed a runner in her 60's who came in among the last group. A participant in a wheelchair congratulated fellow racers on his way into the VIP tent. The weather was warm, the mood was bright and there was still a huge reward ahead.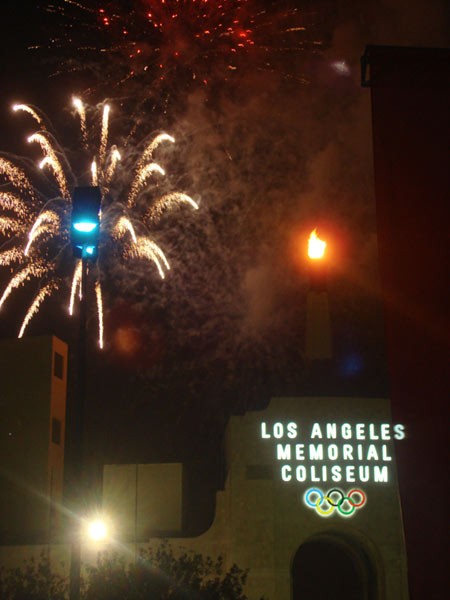 Refreshed and rested, runners began to fill in the empty space in front of the Coliseum stage. Beers were bought; glowsticks were displayed proudly; camera flashes lit the dark as groups of runners posed for pictures. A mere 10 minutes after his scheduled 10 pm start time, the lights dimmed, the expectant crowd roared and Kanye burst onto stage. His set - both solo and with Common - was generous and the crowd rewarded him with total interaction. Kanye left the stage as quietly as he had raucously taken it. The air was still until broken by the sights and sounds of fireworks in the inky sky above the Coliseum. The crowd gasped with enjoyment.
At the conclusion of the day, it didn't matter what race time a runner had; it didn't matter whether a runner was an actor, multi-platinum recording artist or teacher from Costa Mesa; didn't matter what their motivation was, nor their color, creed or nationality. Like uniting for a common cause, the response to fireworks is universal. Under the exploding color at the coliseum and at similar Nike celebrations worldwide, for one historic race day, we were all simply human.
Story and Photos by
Shannon Peace
Starpulse contributing writer