God Of Thunder Chris Hemsworth Talks Hollywood, His Looks & More In Out Magazine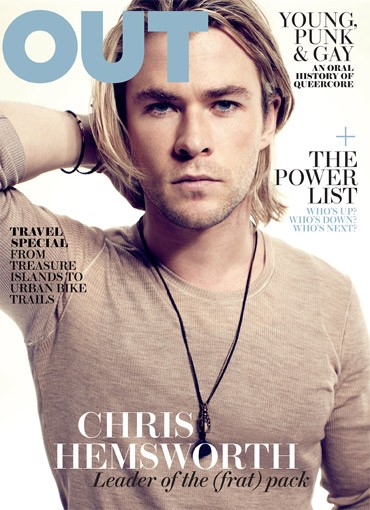 You may recognize Chris Hemsworth as the guy who played Captain Kirk's father in 2009's "Star Trek." But more likely, it's his role as Thor, the God Of Thunder, that comes to mind. Just don't mix him up with his brother Liam, who's dating actress/singer Miley Cyrus.
Chris has two huge films opening in the next couple of months. He plays the huntsman in "Snow White and the Huntsman" (June 1) opposite "Twilight" phenom Kristen Stewart. He also brings back Thor in "The Avengers" (May 4).
The 28-year-old Australian, who cut his acting teeth on his country's uber famous soap opera "Home and Away," told Out magazine his career has mostly been due to luck.  And as for his, ahem, extremely buff body? "It's so easy to sound fake sincere when you talk about looks or whatever, but I never thought, Oh yeah, great, I look like this, therefore I ought to get that. We all have the same insecurities," he explained.
Despite his bulging muscles, Chris, who is expecting his first child later this year, is in touch with his feminine side. "My mum always used to say to me that, out of her three boys, 'Chris, you were the girl,'" he noted.
And adjusting to Tinsletown hasn't been easy. "You come to America, and, if you do a big TV show, then you can be overexposed, or old, before you're new," he said.
Well, we'd like nothing better than to see an overexposed Chris Hemsworth. Wouldn't you?
Read the full Chris Hemsworth cover story HERE!