Glenn Close To Receive Palm Springs Career Achievement Award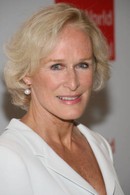 Glenn Close has been named the newest recipient of the prestigious Career Achievement Award at the upcoming Palm Springs International Film Festival.

The actress will follow in the footsteps of Robert Duvall, Clint Eastwood and Helen Mirren when she's honored at the 23rd annual gala in California in January.

Film Festival Chairman Harold Matzner says, "Glenn Close has the gift of mesmerizing an audience whenever she performs. Since her film debut in 1982, Close's ability to capture the essence of a character is unparalleled, be it a femme fatale, a notorious stalker or the trusted aide to a president."

"To this star, a superstar in every sense of the word, the Palm Springs International Film Festival is proud to present the 2011 Career Achievement Award to her (sic)."