Glen Campbell Suffering From Alzheimer's Disease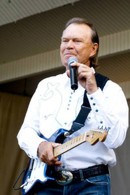 Veteran singer Glen Campbell is suffering from Alzheimer's disease.

The Rhinestone Cowboy hit-maker, 75, has been plagued by short-term memory loss for many years and six months ago, doctors confirmed he is suffering from the degenerative neurological disorder.
 
Campbell and his wife Kim have now gone public with the diagnosis ahead of a number of planned retirement shows later this year, revealing they don't want fans to worry if he forgets his lines.
 
Kim tells People magazine, "Glen is still an awesome guitar player and singer. But if he flubs a lyric or gets confused on stage, I wouldn't want people to think, 'What's the matter with him? Is he drunk?'"
 
Campbell adds, "I still love making music. And I still love performing for my fans. I'd like to thank them for sticking with me through thick and thin."