Glen Campbell Plays First Gig Since Alzheimer's Announcement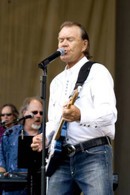 Veteran singer Glen Campbell was given a standing ovation at his first concert since announcing he has Alzheimer's disease.

The Rhinestone Cowboy hitmaker stunned fans last month after revealing he is suffering from the degenerative neurological disorder.

But the 75 year old proved the show must go on after taking to the stage for a triumphant gig at the IP Casino in Biloxi, Mississippi on Friday.

According to the Associated Press, the country star played a 22-song set, including his hits "Gentle on my Mind" and "By the Time I Get to Phoenix," and later brought the audience to its feet with his classic Wichita Lineman.

Campbell joked to the crowd, "I tell you I'm happy to be here. At my age I'm happy to be anywhere. It seems like I've been doing this since Hitler was a corporal."