'Glee's' Dot-Marie Jones Supports Anti-Bullying Kids Book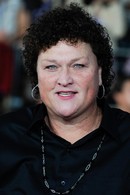 Glee star Dot-Marie Jones is throwing her support behind a new kids' book which aims to stop bullying.

The actress, who plays Coach Beiste on the hit musical series, admits she was inspired to help the cause because she was teased about her height as a youngster.

She tells People.com, "I grew really fast... seven inches in six months. Kids would say comments like, 'You're so tall, you should have been a man. Are you a man? Are you a woman?' It still strikes a nerve. Kids don't realize how powerful words are."

Just Like You tells the story of a deaf field mouse and a disabled spider who become friends and stick together.

Jones adds, "It doesn't matter what your differences are. You have to embrace what your likenesses are, and that we're all just like you."

One hundred per cent of the book's proceeds will be donated to foundations benefiting people with disabilities.