'Glee' Star Lea Michele Speaks Out For First Time Since Cory Monteith's Death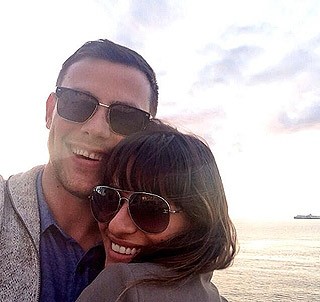 Glee star Lea Michele has personally opened up over the death of boyfriend and co-star Cory Monteith with a post on her Twitter page along with a photograph of the couple.

"Thank you all for helping me through this time with your enormous love & support," she wrote. "Cory will forever be in my heart."

The actress has been mourning the tragic loss of Monteith following his untimely death from an accidental heroin overdose on July 13.

Last Thursday the actress and "Glee" creator Ryan Murphy honored Monteith with a memorial for the cast and crew of the show.

"Today, Ryan Murphy and Lea Michele gathered the cast, crew and producers of Glee, along with colleagues from the network and studio, to share memories and music in an emotional celebration of the life of Cory Monteith," a statement from 20th Century Fox Television read.

Monteith was found dead in his hotel room in Vancouver, Canada following a night out with some friends.

The actress returned to Twitter for the first time since Monteith's death on Monday.

Murphy recently told The Hollywood Reporter that the decision to continue on with the hit Fox show was made by Michele.

"[She's] the strongest 26 year old I know..." he explained. "[She] felt that the best thing for the cast and crew was to be together... She's trying to look out for 500 other people who have mortgages to pay and families to feed."