'Glee' Star Corey Monteith Spent Time In Rehab After Family Intervention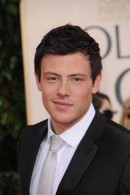 Glee star Cory Monteith has revealed he once checked into rehab as a troublesome teenager in a bid to kick his drug habits.

The young Canadian has made no secret of his wild teenage ways, admitting he often skipped school to drink and do drugs, but during a recent interview with publication Parade magazine, Monteith admits his behavior got so bad he turned to rehab in a desperate bid clean up after his family staged an intervention.

He says, "I burned a lot of bridges. (I did) anything and everything, as much as possible... I had a serious problem...That's when I first went to rehab. I did the stint but then went back to doing exactly what I left off doing.

"(I) stole a significant amount of money from a family member. I knew I was going to get caught, but I was so desperate I didn't care. It was a cry for help. I was confronted and I said, 'Yeah, it was me.' It was the first honorable, truthful thing that had come out of my mouth in years."

Monteith finally sobered up and took up acting, and now he has turned his life around he is is hoping the lessons he has learned will help others.

He adds, "I don't want kids to think it's OK to drop out of school and get high, and they'll be famous actors, too. For those people who might give up, 'Get real about what you want and go after it. If I can, anyone can.'"