'Glee' Season Finale Recap: 'Journey' To Somewhere Over The Rainbow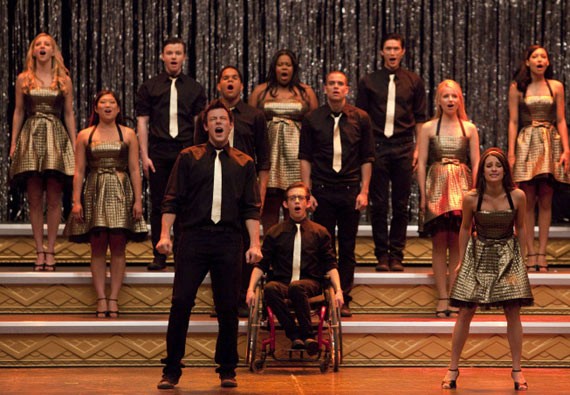 'Glee' had its big finale last night, and the first season's curtain call was full of drama, heart, and totally over-the-top musical performances.  It's hard to believe it was just a year ago that Fox aired a one-episode glimpse at the show that would become an iTunes dominating, buzz generating phenomenon.  The show has gone to the White House, on a multi-city concert tour, to the top of the charts, and over the rainbow. Yet, at the end of it all, we're right back where we started – about to embark on a year-long Journey to win a singing competition.

Regionals is no Sectionals
Sorry Rachel, your parade has just been rained on. More than a cloud, there's a 'Bohemian Rhapsody' performance featuring your ex-boyfriend, directed and choreographed by your estranged mother, intercut with your frenemy literally popping out said mother's soon to be adopted daughter. Basically, something no Journey medley can save any of us from. On the bright side, Finn dropped the I LOVE YOU bomb right before the big 'Faithfully' duet, the 'Don't Stop Believing' callback worked nicely, and 'Any Way You Want It' was pretty good too. Still, it lacked the one-two punch of the Streisand/Stones combo at Sectionals, and unfortunately, crowning cut-ins aside, Vocal Adrenaline had the edge on this one. (Side note: Was anyone else as nervous as I was when Sue was announcing the winner?)
Mama mia, Let me go
Estranged Moms were big in the finale.  Not only did Rachel's estranged mom pay it forward and take Baby Beth off now-estranged mom, Quinn's hands, but Quinn's own estranged mom came back (as a newly single mom) to reconnect with her daughter and granddaughter.

The adoptive mom surprise was a good one for sure, but I would not have minded the Idina Menzel-Matthew Morrison glee club coaching partnership that Rachel suggested. However, plenty of potential opportunities for Shelby Corcoran to return and/or star in a spin-off/webisode series about a single mom who teaches singing lessons on the side. 
Bad Sandy
Olivia Newton-John goes to the dark side and makes Sue Sylvester into the sheltered outcast at the judge's party. Leave it to ON-J to knock Sue down far enough that she starts to identify with the underdogs she's been chomping at the bit to get rid of all year long. At the end of the day, Sue voted for her own McKinley Glee Club and arranged for them to have another year to try and win Regionals before getting shut down. She ranted and raved and probably got to deliver her longest insult monologue yet, and while it was awesome, even Shue knew that Sue's bark was worse than her bite. While I liked the whole Sue Saves the Glee Club storyline, I do hope she ups her horse estrogen doses or wakes up from the Olivia Newton-John drugs by next season so that we get the Glee Club-hating villainess back in her evilest form. (Season 2 song request =  Shue sings 'Runaround Sue' ) (Season 2 other request = a 'here's what you missed on glee' that tells us what actually happened with Jesse St James between playing a tape in Rachel's bedroom and cracking an egg in her face)
Last Will and Testament
If the Glee Club was really ending, what would you say? What would you do? What would you sing? If you were Will, you'd probably tell the OCD Guidance Counselor you sorta didn't really screw over that you love her even though she's dating her dentist who Entertainment Weekly reports will look a lot like a certain Uncle Jesse from 'Full House.' If you're anyone else in Glee Club, you'd talk about who you were a year ago, and let Mr. Shue see how much he and Glee have changed you. You would also look like you took a group shower in your tears and everyone's hair would be messed up or wet except for the girl who just gave birth because well, she's probably been through enough. And then you'd sing.  Not a song that everyone would know like that Kelly Clarkson song you sang after winning Sectionals, but a more serious, more poignant song from a 1960's movie perhaps, called "To Sir With Love." Everyone would get to sing a solo and it would be all about the music and the voices. And it would sound really great and make everyone get a little choked up inside. Will would break down and Sue would have tears rolling down her cheeks and before we got back from the last commercial break we'd know that Obama, Madonna, and the Super Bowl have all joined forces and are fighting for the Glee Club to sing another day.
Summer and Over the Rainbow
Will breaks the news to the kids... Glee will go on! Also, before they leave for summer vacation, he has a song for them. The father figure of the group enlists new papa, Puck to take us to a place where 'the dreams that you dare to dream really do come true.' Yes, the ukulele version of "Somewhere Over the Rainbow" is a touch overplayed, but that does not mean that it does not deserve the 'Glee' treatment. In fact, familiarity is part of what makes this the perfect final song of the season. It's simple, reliable, and gets right to the heart of what 'Glee' is all about. As the 'To Sir With Love' stool sessions reminded us, everyone in Glee Club found something on this year-long journey that they didn't know was right inside them all along. Whether it was a heart, a brain, courage, or a place to call home, somewhere over the rainbow everything changed. Next year, when they follow the yellow brick road back to Regionals, they will already have all the Lady Gaga and Funk lessons under their belt and move forward with the knowledge that 'there's no place like home.' Or they'll forget everything and we'll have more Gaga, more Madonna, and maybe even some Britney for all the 'not a girl-not yet a woman' moments. In any event, we'll all be back in the fall to enjoy the ride!

Until then… tell us what you thought of the 'Journey' to Regionals.  Were you happy with how everything went down? Do you think Finn will be what Rachel did on her summer vacation?  Will Olivia Newton-John get the last word or will Sue Sylvester bounce back?