'Glee' Season 5 Finale Recap: The Untitled Rachel Berry Project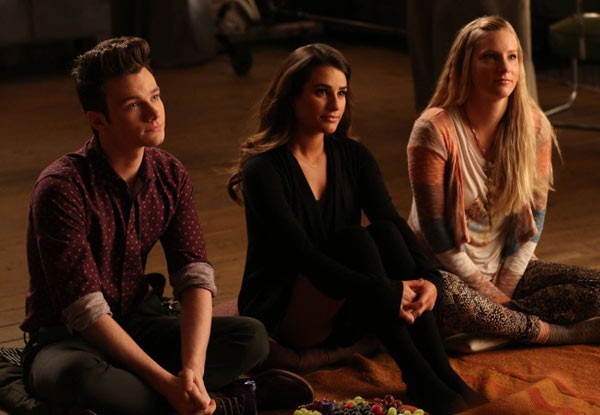 In an alternate Glee-niverse Blaine and Brittany S. Pierce are bedroom buddies (sexually and interior-design wise.) Kurt trades custom neck-ware for a bed bug infested dinosaur suit and goes by Cert (that's right, like the mint). Finally, Rachel has two astronaut dads. Okay, Houston we have a problem. And it's the premise of Rachel's potential TV series along with its maniacal screenwriter, who concocted these tales.
We open the season finale with the traditional Monday dinner that featured various finger foods. Just don't flaunt them Sam's way (looking at you, Mercedes) as his goal of being tight and right in a bus ad gets closer to fruition with a casting call for Treasure Trails. Rachel's too busy cooking up gems about her "work, talent and ambition" to feed to the network's in-coming screenwriter to care about her own appetite.
Then, KNOCK, KNOCK (seriously, this is probably the only time someone has knocked on that habitually unlocked door) its Brittney bitches!! She's back from Lesbian Island looking fresh faced with not a hair out of place. But her passport sure was. Anyway, she missed Santana, who landed another yeast infection commercial. (ASIDE: Does anyone else feel like these two have been playing cat and mouse since their reignited hook-up?)
Trailing behind Ms. Pierce is Mary Halloran(Kristen Schaal), Rachel's bespectacled screenwriter that finds everything gag worthy; starting with Chinese food and names. Oh, but she embraces the typewriter. Is it vintage nostalgia or she's just a devout Luddite? You decide. Just don't ask about her process as it elicits an impersonation of this.
Mercedes kicks off her mall tour with yet another executive decision (you recall her first being Santana on her debut LP) by adding Brittany on payroll as a dancer. And you can bet your sweet leggings that Britt is worth that investment as she demonstrated her fancy footwork around Mercedes belting out original up-tempo jam "Shakin' My Head." More like nodding in satisfaction.
While Mercedes is rocking it on stage, Blaine's making sure he doesn't fall off his, come opening night. Not to worry, June (Shirley Mclaine) has got three sure fire performance tips: 1. Talent 2. Hard work 3. Luck. It doesn't come in handy for getting Kurt a spot on the showcase; leading him to break the news in the most delicate way possible. It starts off with the gel-haired crooner serenading him with John Legend's power ballad "All of Me," which I'm still not sick of. Kurt looks on suspiciously. Guess he's having flashbacks of this scene. Another tender moment shattered by Blaine's confession, leading Kurt to question his trust. It's a theme heavily on repeat with these 'shippers this season.
Just as Mercedes and Sam's non-existent sex life is starting to be. Sam needs more than a tight rubber band to confront his Treasure Trails casting call that's made up of leotards, ladders and stripper poles. Oh, my. 'Suppose abstinence works for Sam, as it helped ooze the sex appeal needed to land the shirtless gig. Not to mention oogle and caress a bevy of models while singing Duran Duran's "Girls on Film." Nice moves, Sam, maybe too good, as the photographer crawls on the floor like a leopard after prey. And guess what? Sam gets captured.  Apparently the sex-tervention between Blaine and Artie zapped his sex appeal in front of the camera. So, after excusing the crew, she created her own motivation technique-planting one on Sam's mega mouth, which produced a teary candid shot. Would have loved to see it, for some reason this comes to mind.