'Glee' Recap: The Good, The Bad, And The Beiste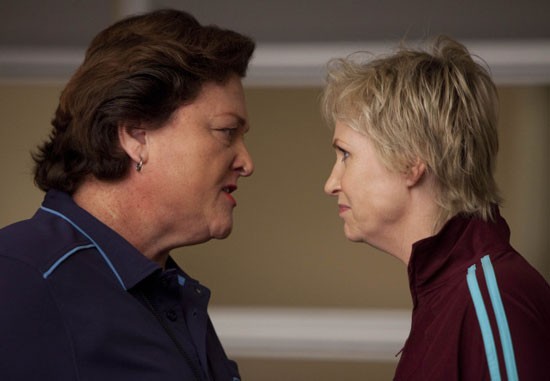 Welcome back! The season premiere of "Glee" mimicked the experience of going back to school in September. All that potential and fresh hope for a wonderful new beginning quickly gives way to the realization that you're right back where you left off. For better or worse, things are pretty much the same as they always were, and overall, "gleeks" are okay with that. Bring on more cheery renditions of the latest pop songs!
Of course, each new September comes with new faces in the hallways and new teachers in the classrooms. Both are approached with caution. Similarly, as fans, we're a little wary of all the newbies that are taking away Sue Sylvester's screen time and hijacking solos that would have had Mercedes' name all over them last year. We should pay attention to Mr Schue's latest kernel of wisdom and not judge too hastily, but this is a recap and that's kind of our thing. So here goes…
The Good
Jacob Ben Israel's video newsreel entitled, " Glee's Big Gay Summer" was a funny and clever way to catch us up on everyone's lives. Among the highlights were the very meta request that begged Mr. Schue to stop rapping, the Hebrew lettering on the microphone, and the hard hitting journalistic question, "How do you get the white on rice?" It turns out that as far as Tina's concerned, Artie's out and Mike Chang (Other Asian) is in.
"Empire State of Mind" was a solid emsemble performance and a great choice for the first song of the season. Fun without being flashy, the showcase worked well as an attempt to increase interest in the "Glee" club, or at least identify the toe tappers and hummers in the school courtyard who might be worthy recruits. The setting gave the number a little bit of a "Summer Nights" in Grease feel, which intentional or not, was a good thing.
"Telephone" was Rachel and new kid on the block, Sunshine Cortazon's impromptu bathroom duet. The ridiculously good singers were both performing their hearts out in the most ridiculous setting, and who better than Sue Sylvester to acknowledge that fact.  Was I the only one who laughed our loud when Sue popped up out of nowhere and delivered the perfect "Shut Up" to end the lavatory sing-along?
"Billionaire" singer and new quarterback on the football team, Sam Evans hasn't won me over yet but for now, I'll leave Finn 2.0 in the good column since this rendition of the recent Travie McCoy/Bruno Mars hit was an enjoyable audition piece that got all the boys involved and gave Artie his second rap solo of the night.  
"What I Did for Love" was the big Rachel Berry solo at the end of the episode that helped erase our concerns that this whole season would be all about throwing out the old and making room for the new. Hearing Lea Michele belt out a classic Broadway anthem never gets old for some of us Gleeks and it's good to know we don't have to totally kiss that tradition goodbye. After Charice had wowed the rest of New Directions with a rendition of "Listen" from Dreamgirls, Lea Michele needed a serious diva moment of her own. The famous song from A Chorus Line was the perfect expression of Rachel's love for the stage and the spotlight and how for her, it is as real and true as any love she's ever known. Sunshine was basically stealing her boyfriend, and even if sending her to a crackhouse is a tad over the top, in this context, it makes a little bit more sense… Or maybe not.
The Bad
Psycho Rachel was difficult to take. Her ballad at the end reminded us why we love her but it was a little late and couldn't make us totally forget how grating she was for the bulk of the episode. The plans to sabotage her rival were simply too cruel and her totally unapologetic demeanor too crazy to be believable. Even when the allures of fame, attention or love cause her to ignore it, Rachel has always had a conscience. Unlike Sue, she's still figuring out what lines she will and will not cross to get what she wants, and though she may not be the most likable character, this journey has, in the past, made her one of the most interesting.
Vocal Adrenaline Exchange Program – Like last year, we can't quite figure out how students are able to transfer schools for glee club-related reasons with such ease. Now it seems like new coach, Dustin Goolsby (played by Broadway and "30 Rock" star, Cheyenne Jackson) can import singers from the Philippines by handing their mothers green cards… or something like that. We nearly got whiplash from all of Jesse St James' sudden turnarounds last year and would much rather take things a little slower than go down this dizzying road again with Sunshine.
Paging Miss Pillsbury – Apparently guidance counselors don't need to show up for the first week of school. We're sure she'll be around next week, but it felt odd that Emma was completely absent from the episode, especially after Mr Schue planted a surprise kiss on her dentist-loving face in last spring's finale.  
The Beiste
Coach Tanaka is out of the picture and the new football coach is a lumberjack of a woman named Coach Beiste (pronounced "Beast" as in Beauty and the __). As Sue describes her, Coach Beiste is "oversized, humorless, and refers to herself in the third person as an animal." Certainly a character that leaves an impression but after only one week, Beiste's performance review is mixed.
On the Plus Side: Hearing characters say the word "Beast" a lot is thoroughly entertaining and will likely continue to be so. Her nonsensical riddles (i.e. "You're all coffee and no omelettes") could be a potentially awesome character game. She got Sue and Schue to form a short-lived but nonetheless enjoyable partnership to execute Operation Mean Girls. There's a definite intimidation factor with a football coach that's twice Coach Tanaka's size and about 40 times scarier.
On the Flip Side: Beiste feels like a retread of the Sue Sylvester character without being as specific in her motivation or reactions. She starts out tough, then cries in the locker room because she's an outcast, and then turns around and kicks Finn off the team for allegedly insulting her. Is she Sue with more testosterone? Sue with more sensitivity? We're not quite sure who this Beiste is, but we're looking forward to finding out as the season continues.
In the meanwhile, let us know what you though of the Beiste and everything else? Are you glad that "Glee" is back again? How excited are you for next week's Britney Spears themed episode? From the glimpse we got in the previews, it looks like a lot of hot homages to the Pop Princess' greatest hits! Tell us which ones you can't wait to see!