'Glee' Recap: Sweet Dreams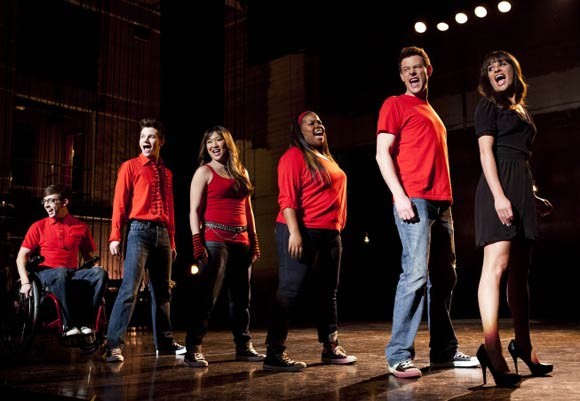 This week's "Glee" opens at the University of Lima, where Finn adjusts to life as a college freshman. This immediately raises a few questions: How could Finn possibly be enrolled in college? Does the university allow students to enroll months after the semester began? "Glee" has always had a problem with realism, but this is a major head-scratcher, seeing as Finn spent the last nine months assisting a high school glee club.
In between classes, study breaks and the occasional Harlem Shake, Finn discovers he has a new roommate: Puck. Though Puck admits he isn't actually enrolled in the college, he and Finn quickly become partners in crime on campus. They're later seen taking part in classic college hijinks, including manipulating girls to take their tops off, gliding down corridors on wet Slip 'N Slides and crashing frat parties.
Elsewhere in Lima, NeNe Leakes is back portraying Coach Roz Washington, who has taken over the Cheerios now that Sue is gone. She briefly appears onscreen to verbally harass Will and Coach Beiste, and later reappears to verbally harass Becky and Blaine. She raises her suspicions at having a girl with Down's syndrome and a boy with zero cheerleading experience as co-captains of a renowned national championship cheerleading squad, and she vows to figure out their varying agendas.
Meanwhile the rest of the McKinley High glee club is still reeling from the events of last week's school shooting episode. The traumatic event has resulted in odd coping mechanisms: Sam has taken on a duel personality in the form of a "twin brother" named Evan Evans; Unique is taking birth control pills to grow her breasts; and Tina's wardrobe is oddly reminiscent of her Goth look from season one. One of the few the step away from the event with hope rather than fear, Marley attempts to get the glee club to play her original music at the upcoming regionals competition, which has announced its newest theme: dreams.
Unfortunately, Marley's dream of bringing her songs to life is shot down when Mr. Schuester creates a set list made up of safe, judge-appealing songs from the 1970s and 1980s. When the kids attempt to sway his decision and ask to do more modern hits, Will snaps at them. It's made clear that his anger stems from his distress over losing best man Finn after Finn revealed he had kissed Emma before her and Will's wedding. Coach Beiste, Will's only friend these days, suggests that he track down Finn and make amends. But convincing Finn to come back and assist the glee club doesn't go exactly as planned.
Finn enjoys college. He loves the people, the partying, the atmosphere. It takes a surprisingly level-headed Puck to make Finn realize that college isn't just about partying and hooking up with girls, and someone who wants to become a teacher as much as Finn does should stop skipping classes and take his education seriously. Ultimately Finn convinces the dean at the University of Lima to give him college credit in exchange for his time with the glee club (which also answers the question of how he could spend most of his time at a high school when he should be at a place of higher learning). He and Will agree to forget the past and start a new partnership, beginning with letting Marley share her dream with the rest of the club.
Over in New York, Rachel preps for her own dream: a chance to play Fanny Price in the Broadway revival of "Funny Girl." Anyone who has watched "Glee" from the start knows how much Rachel idolizes Barbra Streisand—even her estranged mother is aware of her desire to follow in Barbra's footsteps. Guest star Idina Menzel returns as Shelby and offers Rachel simple advice by telling her to be different. She advises Rachel to stray from singing Barbra songs at her audition, and after a meaningful phone conversation with Finn convincing her of her talent, Rachel launches into a solo rendition of Journey's "Don't Stop Believin.'"
Gleeks who have followed the show since season one undoubtedly squealed upon seeing Rachel sing with the original glee club members: Kurt, Finn, Artie, Tina and Mercedes. Though their appearance on stage was mostly a product of Rachel's imagination, it served as a great moment of nostalgia.
Rachel's audition doesn't exactly blow the casting directors away, but it's evident that they are pleased with her decision to be different. By the end of the episode Rachel receives a callback and squeals into Kurt's arms.
What did you think of this week's episode? Did you like the new original songs? Will Becky reveal the real gunman? Will we see Rachel's callback?
Memorable Quotes:
Coach Roz: "I'm a child of the ghetto. I can't sleep at night unless I hear at least two gunshots."
Shelby: "We're Facebook friends, Rachel. You started posting as Barbra."
Puck: [to Finn] "I'll grab the iron and make us some grilled cheeses."
Becky: [to Blaine] "Mind your own gay business, gay Blaine!"