'Glee' Recap: Sarah Jessica Parker Returns In 'Lights Out'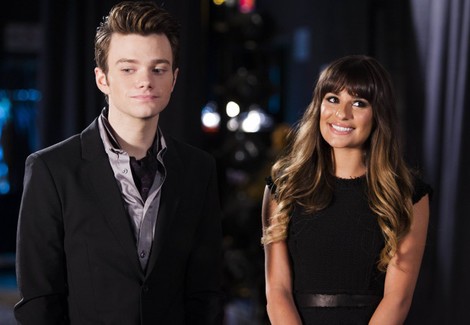 On this week's "Glee", McKinley gets serious and goes unplugged when a power outage causes the lights in the school to shut off and the Glee clubbers to open up. Ryder shares that he was molested at a child by a teenage babysitter and it has since affected his ability to trust women. Sam and Artie think it's "every teenage boy's fantasy" and completely underestimate the seriousness of the situation. Kitty understands him though - at a dinner at Breadstix with Ryder, she confesses that she was molested by a friend's older brother when she was in sixth grade. The fallout from her trauma was so bad that she switched schools. Kitty sees Ryder as boyfriend material and thinks that sharing her story with him has brought them closer, but he blows off a date with her to sit around and wait for catfisher Katie.
Meanwhile, over in NYC Sarah Jessica Parker's Isabelle returns and asks Kurt to attend the New York City Ballet Gala as a "celebrity wrangler". He invites bestie Rachel and frienemy Santana to come along and help him out. Rachel and Kurt sit Santana down for a talk and encourage her to find a direction in life other than her current gig cage dancing dressed as Barbarella. At the gala, a performance of "At the Ballet" inspires Santana to start taking baby steps toward making her dreams come true, which include taking dance classes through NYADA's extension program. A touching scene at the end of the episode shows Santana hugging a vision of her childhood self and promising never to forget her again.
In Sue's world, she's working as a personal trainer and Blaine, not believing that Sue was the one with the gun and being disenchanted with new Coach Roz Washington, attends her Boot Camp to try to convince her to come back and tell Principal Figgins what really went down when the gunshots went off. Becky, who has quit the Cheerios, also begs Sue to return, but Sue claims to be happier in her new job. Is she telling the truth or just covering up her feelings?
During Sam's performance of "You've Lost That Loving Feeling", Artie is shown to be texting away. Could he be the one catfishing Ryder? What did you think of the acoustic performances? Were you glad to see the return of Sarah Jessica Parker? Did you approve of the way "Glee" handled the subject of sexual abuse? Sound off below!