'Glee' Recap: Rocking The Horror Show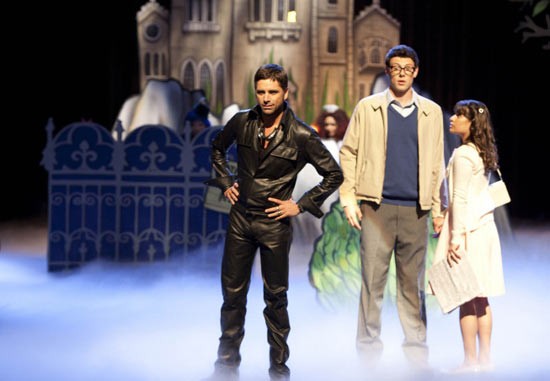 Coming into "The Rocky Horror Glee Show," my expectations were not particularly high.  My familiarity with the source material began and ended with the iconic singing red lips and in general, I'm not a huge fan of "the Halloween episode." I just don't look forward to that week when shows decide to ignore every story arc they've set up just to put their characters into some stylized parody of a horror movie. Therefore, I was thrilled to see that this week's installment of "Glee" actually felt more like an episode of "Glee" than an unintentionally rocky, well… horror show.
The storyline of 'Rocky Horror Glee' revolved around the Will/Emma/John Stamos love triangle. Emma is still dating Stamos (Carl the Dentist) and Will is jealous that he's helping her overcome her OCD by getting her to eat sandwich crust and spend time in filthy midnight viewings of "The Rocky Horror Picture Show." Watching the newly liberated Emma from the sidelines prompts Will to name 'Rocky Horror' as the next high school musical and enlist Emma's help in getting it all together.
There's an eerily topical conversation about the material being too racy for high school kids. (If only Will had given this speech before those GQ pictures came out last week, maybe some of the hullabaloo that they caused could have been avoided.) Mr Schue is able to sidestep any issues that Katie Couric and the ladies of The View might want to take him to task for and even thinks he's got Sue on his side. Of course, we know how Sue really C's it and are totally rooting for her to pick up that local Emmy. If it means more segments of Sue's Corner, we'll be very happy.
We'll also be very happy if future episodes do as great a job as this week's show did at spreading the performances around and giving characters we haven't heard from a chance to show off their pipes.  So let's review...
"Science Fiction Double Feature/There's A Light" – Naya Rivera gave the floating red lips their voice as they sang a tribute to sci-fi films in a style that paid tribute to "The Rocky Horror Picture Show" film. Right from there, we see Rachel on stage singing the song, "There's A Light" in what looks like a rehearsal for a high school musical. Sets, costumes, and John Stamos busting onto the stage to interrupt the scene work seal the deal. Mr Schue is putting on a show! Strong start to the show.
"Damn It, Janet" – Body image issues gave the kids something to do besides rehearse this week and the twist of focusing this storyline on the male members of the cast at least started out with potential. As it turned out though, anything borderline interesting was pretty much dropped by the time Sam was pulling at the skin covering his rock hard six pack and kicking himself for eating a cool ranch Dorito, while Finn nearly got a month's suspension for walking through the halls in his underwear. We'll see if Sam's manorexia becomes a story line going forward or if it was just inserted as fodder for the gold bikini references. Also, Finn and Rachel's "Damn It, Janet" – pretty great! I have no basis for comparison, but I thought it was lively and a lot of fun and seemed to suit their voices really well.
"Whatever Happened To Saturday Night" – Any fan of "Full House" remembers that John Stamos can be quite the showman and now all Gleeks had a chance to see it for themselves. This was one of those choir room rehearsal numbers that are quickly becoming my favorite performances to watch. Sometimes all you need is a catchy, upbeat tune that gets everyone up on their feet and dancing with carefree abandon.
"Sweet Transvestite" – So, we're just going to ignore the what/how/huh of John Stamos scoring a role in a high school musical despite being a dentist with no connection to the school aside from dating the guidance counselor and shooting up the students with Britney Spears-conjuring Novocain. Instead, let's move on to other casting news and Mercedes decision to step up and volunteer for the transvestite role. Obviously, this was the family friendly choice. Obviously, Mercedes can belt out pretty much any tune she's given. Obviously, she can perform the hell out of a character role and bring on attitude and sass in spades. Obviously, she was miscast in the role of a transvestite. Sorry, but it just didn't work.
"Touch a Touch a Touch a Touch Me" – Go Emma! Jayma Mays has not really been given a spotlight moment like this one and she went all out for Emma's uninhibited by OCD sexual awakening. Matthew Morrison showed off his own fine abs and made a play for Stamos' girl. Later, Will admitted that Carl the dentist was doing good things to help Emma overcome her problems and said he'd back off.  This coincided with his realization that 'Rocky Horror' was not totally appropriate subject matter for a high school musical.
"Time Warp" – Let's do the time warp again! Even though they weren't performing for an audience, the Glee kids gave it all they had in this enjoyable closing number. Between Quinn and Kurt's singing and Tina's tap dancing, this was a great group performance that gave every member of the ensemble a moment to shine.
What did everyone think? Did you love 'Rocky Horror Glee' or think it was just a plain old horror show? Does the 'Glee' cast live up to the original cast recordings of these tunes? Did you recognize Meat Loaf? Do you even know or care who Meat Loaf is? Let us know… and Happy Hallow'glee'n!