'Glee' Recap: Puck Goes To Cougar Town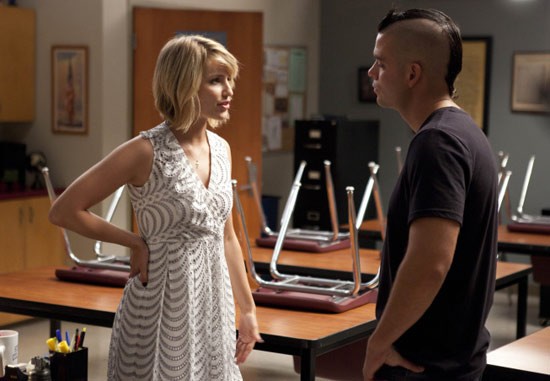 After yielding its timeslot to Major League Baseball for the past few weeks, "Glee" returned last night with an hour of leprechauns, cougars, and congressional candidates. Picking up where the series left off, this reasonably focused episode advanced several plotlines and introduced some new talent, in the form of 'Glee Project' winner, Damian McGinty. 
The second of four new cast members that will, at some point, be transplanted from the Oxygen Channel's competitive reality show to the Fox flagship, McGinty was front and center in his inaugural appearance as foreign exchange student, Rory Flanagan. Brittany and whatever oddball parents float around her home are playing host to the cheerful Irish lad who is happy to indulge Brit's illusions that he's the spritely cousin of the magical dude on the Lucky Charms box. Sure, it means taking some abuse at school, which is dutifully lamented in a sweet cover of Kermit the Frog's "It's Not Easy Being Green," but if identifying himself as a wish-granting leprechaun means getting in Brit's pants, Irish boy is game. Of course, as a magical character, Rory's impact reaches beyond the walls of the Pierce home, and he quickly becomes an unwitting participant in the emergence of Shelby Corcoran's viable new Glee Club.
Speaking of said club, when we left off, Shelby was pushing a "girl power" aesthetic and promising solo-starved females a chance to shine in her vocally-challenged gropu. Mercedes had bought in and was now courting other disenfranchised members of the very Berry-centric New Directions. Santana was an easy sell, as long as her bathtub-sharing BFF agreed to come along. Fortunately, they are a couple now and Santana can move past that lovesick haze she's been in and re-emerge as the sneaky, scheming tough gal who scowls through a Blaine-led rendition of the latest Katy Perry pop confection, "Last Friday Night" before cutting out on all the carefree abandon, and defecting to the rival glee club down the hall.  On the way, she'll threaten a leprechaun to ensure her ladylove is the next glee club crossover, and pretty soon the newly branded "Trouble-tones" will take the stage and deliver a rousing performance of the Andrews Sisters-inspired, Christina Aguilera hit, "Candyman."