'Glee' Recap: Love, Loss, And Pure Imagination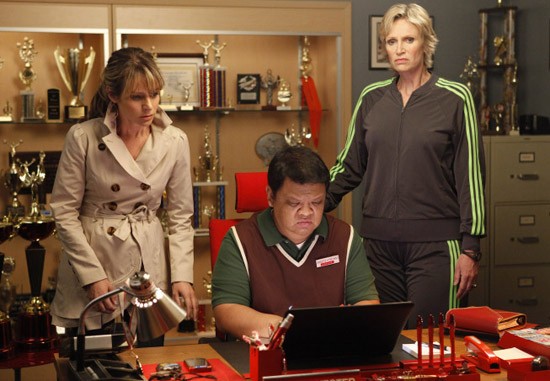 This week was a big one! 'Glee' is gearing up for Nationals in New York, but before they take Manhattan, Finn calls it quits with Quinn, Rachel and Jesse share a kiss, and all the plans to win get interrupted by a sad and surprising loss. It's the penultimate episode of the season and as Mr. Schue puts it, the culmination of everything the glee club has worked towards for the past two years. They've got to be awesome and this week, they kind of were.
Like Kirsten Dunst hiring a jazz hands-obsessed choreographer in the movie, "Bring It On," Mr. Schue  has made the decision to recruit 4-time Nationals winner and special guest star Jonathan Groff as a strategic consultant for the competition. Finn's opposition to the outside counsil was dismissed pretty quickly, but the matter of Sue Sylvester breaking into Figgins' email account (GettinFiggyWithIt@aol.com), and rerouting the glee club's flights to Libya took a bit more effort to disrupt.
The sharp-tongued tracksuit collector was in particularly grumpy spirits and more troubling than her travel schemes was her decision to kick her favorite down's syndrome student, Becky off the Cheerios. Before Mr. Schue had time to  finish calling her a horrible person, Sue revealed that her beloved sister had passed away and grief was the motivation behind this particular mean streak.
While Finn and Kurt committed to planning Jean's funeral, Jesse launched a plan for Nationals that involved building a show around one "star performer" and doling out blistering and unhelpful reality-tv style feedback to all contenders vying for the role.
The first hopeful to perform was Santana who selected the Amy Winehouse song, "Back to Black" as her audition piece. Will Schuester thought it was fantastic, Jesse St. James thought she didn't go deep enough into the emotional truth of the song, and Santana Lopez threatened to go all Lima Heights as she stormed off in a huff.
Next up was Kurt Hummel performing the song "Some People" from Gypsy. Will Schuester thought it was worthy of a few claps, Jesse St. James thought that song was meant to be sung by a woman and Kurt Hummel thought that issue was old news and was more taken aback when Jesse pronounced the rendition inferior to the standards set by women who have sung it before. Kurt's final takeaway was that Jesse St. James = Jesse St. Sucks.  
Mercedes took the stage and belted out a rendition of "Try a Little Tenderness." A talkative Will Schuester said, "Wow. Seeing you up there brought me back to the first time you auditioned for glee club. You were great then but you were just amazing now." Jesse St. James thought that she was not a star but just a girl who could really sing and he didn't know if she wanted it badly enough. Mercedes Jones thought she sang with emotion, performed "in the moment" and is not too lazy to come up and feed Jesse her fist.
Finally, Rachel auditioned for the panel (and an upcoming revival of Funny Girl) with "My Man," the closing song from her favorite Streisand musical. Kurt Hummel thought it was worthy of a standing ovation, Jesse St. James thought it was brilliant, Santana Lopez thought the whole contest was rigged, and Rachel Berry thought about Finn while she was singing. Will Schuester said he'd think about his decision and let them know by Friday. I thought the audition format was an entertaining way to spend a half-hour and enjoy episodes with intra-club competitions (i.e. Duets).  
Of course, when the show is really in fine form, it goes beyond the sing-offs and snarky remarks and brings us moments of pure heart and imagination. The Willy Wonka-themed funeral that Finn and Kurt put together with candy-colored mushrooms, a slide show, and a performance of "Pure Imagination" was pretty perfect. Add the emotional impact of the eulogy and the powerhouse scene is enough to melt Sue's stone-cold heart, wish Will and the glee club luck, name Becky next year's head cheerleader, announce a bid to run for Congress, and oh yeah, confess to sending his Nationals-bound plane to Libya. Thankfully, Terry Schuester's also learned a thing or two and for the first time got to be the hero and send her former hubby on a path towards pursuing his dreams.
The winner of the "star performer" sing-off is Finn, who was never in favor of the Jesse St. James-branded strategy and would prefer to stick with the whole win-or-lose-we're-all-in-this-together approach that's been the 'Glee' way. For now though, Jesse gets the girl and the scene is set for Nationals and a killer trip to New York. Get in that Empire State of Mind!