'Glee' Recap: Let's Duet And Do It Again
Two great 'Glee' episodes in a row! Last week's 'Grilled Cheesus' made us believe in the power of this show to move us to tears and surprise us with its graceful exploration of complicated themes. This week, 'Duets' brought the drama back down to a high school level and gave us a distinctly different but equally satisfying hour of entertainment.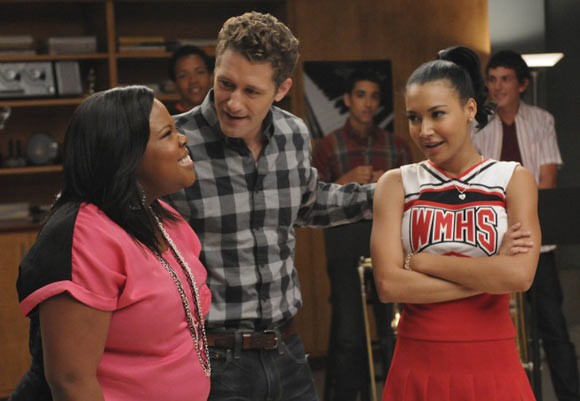 Mr Schuester's announcement of an intra-glee club sing-off sets the wheels in motion for plenty of relationship drama. As with any high school activity that involves contests and partnerships, alliances build up and break down as disappointments, miscommunications and misunderstandings ensue. Good for 'Glee' for setting up the sing-off concept and then running with it, rather than overcomplicating the episode with ill-fitting subplots.  Double good for 'Glee' for giving us some continuity between episodes and revisiting Kurt's father's condition in yet another touching scene between father and son. If there was a contest for best duo, this pair would easily win.  For best duet, however, the competition is fierce and the prize (Breadsticks gift certificate/bragging rights) highly coveted. So let's review --
The Nominees for Best Duet of the Night…
Don't Go Breaking My Heart – Finn and Rachel rehearse this duet before the contest and it's actually one of their sweetest duets yet. There's a vulnerability to their performance that gives us a rare glimpse into the type of relationship we assume they have when they aren't acting like cartoon characters. The more understated approach also helped make their banter about throwing the competition for the good of the glee club  sound more playful than absurd, especially when we see that Rachel's sentiments about Finn making her want to be a better person are actually quite genuine.  
River Deep, Mountain High – I don't care why Santana and Mercedes sing together as long as they do it all the time. Santana gave a couple of reasons why she and Mercedes should team up for the duets contest and a couple more reasons why she was desperate to earn a gift certificate to Breadsticks. After this performance, no further justification is necessary. The duet was awesome. Great song choice, fun choreography, killer voices, and a sassed-up Santana. We's be wanting to hear plenty more from these two!
Le Jazz Hot – Kurt listens to Finn and his father about rushing into a partnership with new Glee-clubber, Sam, and decides to go it alone despite the implicit rules of the Duet-themed sing-off. Perhaps to compensate for presenting a solo effort, he stages a fully costumed routine that can't be contained in the choir room and needs to be seen on-stage in the auditorium. As usual, when Kurt demands the spotlight, Kurt commands the spotlight. His take on this "Victor/Victoria" number was easily the best one-man duet of the night.
Sing – Okay, so Mike Chang can not sing. Unlike Brittany,* who at least proved she was capable of singing the best of Britney Spears, the group's male dance captain didn't have any big vocal surprises up his sleeve. The duet with Tina was fun and energetic, and gave Mike a chance to do some acrobatic tricks, but I think it's safe to say that we won't hear another duet from this combination for awhile.
*By now, saying Brittany is awesome and hilarious is just redundant but c'mon! Confusing duets and duvets, guessing that Artie misses The Clintons, pushing a meatball with her nose like "Lady & the Tramp" were just a few priceless Brittany moments last night. All that and she still had time to take Artie's virginity!
Next, Rachel and Finn dress up in ridiculous outfits and throw the contest. This performance wouldn't have even been mentioned had they not arrived at their song choice by insulting "Grease 2." Let me just say here, that while it's certainly not "Grease" the Michelle Pfeiffer-starring return to Rydell High has some awesomely bad songs that are kind of amazing. "Cool Rider?" "Score Tonight?" "Do it for our Country?"  Irresistible.  
Lucky –Quinn looks past Sam's lame jokes, N'avi quotes, and attempt to kiss her, and sings this sweet duet with him for the win. Whenever Quinn gets a chance to sing, I'm reminded of how much I like her character, and tonight was no exception. I even started to like the new guy during this collaboration. Yeah, Santana's right, it was "so freaking charming" and she and Mercedes would have gotten my vote for best duet, but I'm cool with these two winning a whole lot of free breadsticks at Breadsticks.
Happy Days Are Here Again/Get Happy – Rachel has not been the most likable character this season, so it was a pleasant surprise to see her reach out to Kurt in a genuinely unselfish moment. As someone who was very lonely for a long time, Rachel understands how Kurt feels, but is also quick to remind him that regardless of who plays Finn's love interest, thanks to the glee club, neither of them is alone anymore. This duet is a nice button on an episode that makes it clear that in the land of "Glee," happy days are here again!  
So what did everyone else think?!? Does 'Duets' make it two good 'Glee' episodes in a row? Who should have won the sing-off?