'Glee' Recap: Keeping the Faith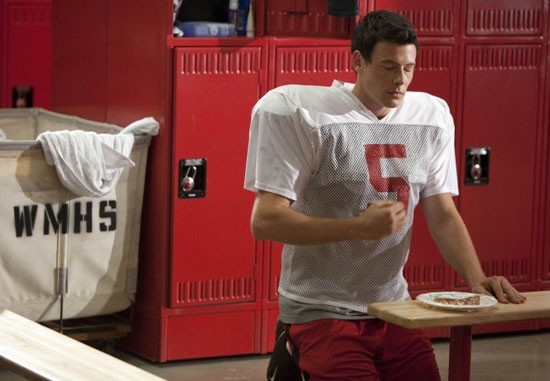 This week's "Glee" summoned a higher power than Britney Spears and gave us a good reason to continue to believe in this show. Our prayers for a character and plot-driven episode were answered! 'Grilled Cheesus' had a story, a clear theme, and a variety of interesting musical interpretations of said theme that deserve to be praised. So now, to continue our sacred tradition, let's recap last night's show…
Are You There God? It's Mi-Mi-Mi-Mi-Mi...
To take on a complex subject like religion, 'Glee' begins with a Christ-like imprint in Finn's grilled cheese. This perfectly absurd deity becomes the springboard for the Glee Club to talk and sing about their spiritual leanings. First up, Puck.
Only the Good Die Young: Puck chooses a Jewish artist's song to represent his own Jewish heritage and sum up his feelings on religion. "I'd rather laugh with the sinners then cry with the saints… the sinners are much more fun" pretty much says it all. Yet again, Mark Salling delivers with this solo performance. The guitar, the devilish grin, the mischievous twinkle in his eyes… it all works wonderfully and makes a very compelling case for the sinners.
It's not quite on the same scale as the epic 'Man of Science, Man of Faith' battle on "Lost" but the Glee Club certainly has some ideological lines drawn. Kurt is firmly planted in the non-believers camp, and holds this position even as friends turn to their religions and beliefs on his behalf. Exhibit A:
I Look To You: Mercedes sings this song to Kurt after his father's heart attack. With her spiritual sisters, Quinn and Tina on backup, Mercedes belts out this recent Whitney Houston tune. She does her thing and as Kurt says, she has a great voice but… it's just not a great song. Prefaced by Mercedes' description that 'it's about being in a very dark place and turning to God,' the song's religious bent ruffles the feathers of Sue Sylvester, another non-believer. Invoking the separation of church and state argument, she gets Schue to call off the assignment for the week, but still allows herself to engage in a frank discussion of faith with Emma. 
Papa Can You Hear Me: Rachel gets her Barbra Streisand on, this time in a song from "Yentl." Lea Michele can more than handle her pop songs, but show tunes are her vocal sweet spot and this was no exception. While the rationale for Rachel singing at Kurt's dad's bedside (Kurt and Finn's friends/girlfriend from all religious denominations were "praying" for him) was a little bit of a stretch, if you were on-board with the episode, it was perfectly acceptable. Kurt however, was having none of it and promptly dismissed his friends and their religious beliefs. 
I Wanna Hold Your Hand:Kurt sings a slow and soft version of the Beatles song to express the depth of his devotion to his father and their relationship. It's a beautiful arrangement that's beautifully sung, and a performance that gets the tear ducts flowing. The images of Kurt's father and a young Kurt were poignant, but as usual, it's Chris Colfer's expressive face that really gets in there and tugs at the heartstrings in just the right way.
Losing My Religion: Finn experiences a crisis of faith when Emma tells him that despite winning football games and seeing Rachel's boobs, his grilled cheese sandwich is not the omnipotent force he believes it to be. Finn's rendition of this REM song was a strong performance and a solid expression of yet another side of the religion theme.
Bridge Over Troubled Water: You don't do a religion episode without a musical number featuring a gospel choir in a church. Like the fantastic hats, it's just something that you know you're going to see. No complaints here. We can appreciate seeing our girl Mercedes fronting another choir group and singing this Simon & Garfunkel classic. It was joyful, meaningful, and gave Kurt a chance to wear a silly black hat with feathers.  
Finn's grilled cheese, Mercedes' church, Rachel's obsession with Barbra Streisand… faith isn't really for anyone to judge and this show made that clear. The message at the end was not about religion at all, but about respecting and believing in one another and keeping our relationships sacred. It was the kind of truth that believers and non-believers alike could get behind. For proof, look no further than Sue's scene with her sister and the scene where Kurt holds his dad's hand as it came back to life.
Finally, What If God Were….
One of Us: The first show this season that ended with a group number on-stage in the auditorium. Dressed in ethereal whites and looking freshly showered, the Glee Club is reborn as Joan Osborne and it suits them well. Simple staging that has an hour's worth of emotional weight behind it can be a very powerful thing.
So what did you think? Were you thanking God for an emotional episode of 'Glee' or was Britney Spears night more your cup of tea? Let us know!