'Glee' Recap: Keeping The Dream Alive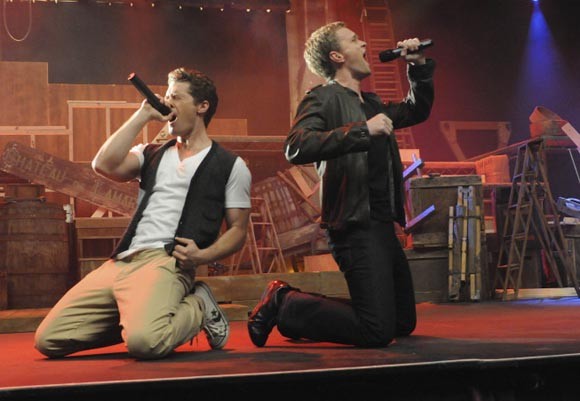 Neil Patrick Harris! Idina Menzel! Dream duets! Artie Dancing! Oh yeah, and the mother of all reveals!  Last night's 'Glee' was a great episode all-around and a dream come true for fans who had been eager to see these incredible guest stars get their song on.

'Dream On' began with the introduction of sitcom star and awards show song-and-dance man, Neil Patrick Harris (NPH to close fans) as a dream-crushing, budget-cutting board member, intent on shutting down unrealistic expectations and possibly, the Glee Club itself. Though Will knew him as a mullet-sporting soloist in high school, the older, shorter-haired Brian Ryan is a recovering musical theater addict that runs a Show Choir Conversion Group four nights a week.

It doesn't take very long for Brian to fall off the wagon, and soon NPH and Matthew Morrison are singing "Piano Man" at a bar and deciding to audition for a community theatre production of Les Miserables. The duo did a fine job with the Billy Joel tune, but it was the hilarious facial expressions of a nearby bar patronthat made it a winner in my book. Seeing someone react less than favorably to an impromptu sing-along was a fun wink at reality and a nice comedic touch.

For their second duet, Will and Brian took on Aerosmith's "Dream On." Their unconventional Les Mis audition sing-off was a performance that Neil Patrick Harris's character on "How I Met Your Mother" would describe as – wait for it – LEGENDARY! It would seem that earning the lead role gives Will the win for this round, but I'm hoping that we'll see Matthew Morrison join Neil Patrick Harris on-stage at the Emmy's for an inevitable rematch.  

This episode also gives us a chance to check back in with Artie and Tina for the first time since their romantic status was solidified in 'The Power of Madonna' episode a few weeks back. After learning that Artie's dream is to be a dancer, Tina decides to come up with her own assignment for the week and help her wheelchair-bound boyfriend's dream become a reality. Kevin McHale and Jenna Ushkowitz do a nice job playing both the sweet romantic moments and the tougher, challenging moments of this story. However, as strong at the scene where Artie fell on the floor and lashed out at Tina was, the emotional impact was undercut by the sight of the actor (who is not handicapped) on his feet, dancing and singing just a few minutes later. 

Overall, Artie's imagining of "The Safety Dance" worked reasonably well. Since this story was all about the character's dream of being able to dance, seeing him do so in a fantasy sequence made good sense, and using a flash-mob of exponentially-increasing back-up dancers was a great way to play it out.

Finally, we got Berry big reveal that Idina Menzel's character is in fact Rachel's mother. Though Lea Michele's striking resemblance to the Tony-Award winning actress made the maternal connection seem almost undeniable, the confirmation was a big relief for fans who had been praying to the casting gods since the vaguely evil, Vocal Adrenaline coach first arrived on the scene. The wait paid off with a mother-daughter duet of "I Dreamed a Dream" that was everything fans had hoped it would be. The Broadway divas put Susan Boyle's version to shame with a performance of the Les Mis showstopper that was all kinds of amazing. WOW!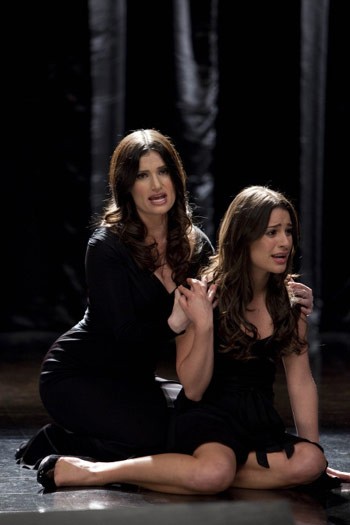 There were so many great things about this story, from Rachel's twisted logic that made her think Patty Lupone was her mysterious mother to Shelby and Jesse's dramatic, rain-soaked secret meeting about 'the tape.' While the Vocal Adrenaline coach's ideal end game isn't clear yet, this story is full of wonderful possibilities, even before factoring in how Mr. Schuester will react when he realizes he made out with Rachel's Mom!

As Rachel got closer to her dream of meeting her mother, Artie's dream slipped further away and he began to focus on accepting his limitations. Meanwhile, Mr Schuester continued to earn his 'Teacher of the Year' award, giving up the lead role in Les Mis to prevent the Glee Club from getting shut down. "Dream a Little Dream" was an appropriately understated final performance that featured Tina and Mike Chang tap-dancing, as Artie sang from his sidelines. It was a poignant button to another great episode.

Next week is a Gaga-themed extravaganza that will include ridiculous outfits and a mother-daughter reunion we can't wait to see! What do you think? Will the Menzel/Michele duet of "Poker Face" be as great as their performance of "I Dreamed a Dream?"