'Glee' Recap: It's Mash-Up Week!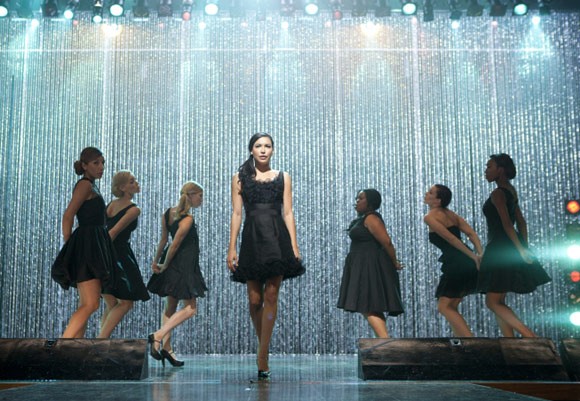 It seems like 'Glee' has just decided to pretend last week's West Side Virgin Story never happened. Thank goodness! What a relief it is to jump right back into election season and age-inappropriate relationships! Puck leads the boys in a sexually charged performance of Van Halen's "Hot for Teacher" within the first five minutes of the episode and it's clear that we can put 'The First Time' behind us and have some fun this week. 
The good news gets even better when Ms. Corcoran , who has nice scenes with just about every single character in this show, speaks to Mr. Schue about keeping their glee clubs rivalry civil. Any self-respecting Gleek can't resist the annual mash-up episode, and one that kicks off with Idina Menzel and Matthew Morrison singing a little of Lady Gaga's "You & I" is off to a pretty great start.
Before each of the glee clubs perform their respective entries in the Mash-off, they get together for a dodgeball game to the death. Luckily, a superb mash-up of Pat Benatar's "Hit Me With Your Best Shot" and Blondie's "One Way or Another" precedes the gym class savagery that gives Rory a bloody nose and Kurt, a new campaign platform.
New Directions opts to pay tribute to the enduring partnership of Hall & Oates in a mash-up of "You Make My Dreams" and "I Can't Go For That." Certainly the feel-good choice in the mash-off, Mr. Schue's loyal show ponies go full-on with an '80's homage  that's fun from start to finish. If only they weren't going up against Adele.
For the mash-off, and incidentally the series' 300th performance, Mercedes and Santana lead the TroubleTones in a mash-up of the British songstress's bouncy "Rumor Has It" and the heart wrenching "Someone Like You." As Finn (allegedly) whispered to Rachel, it was terrific.
Now… about that slap. Discuss! Also, is dodgeball equivalent to modern day stoning? Let us know what you thought of the Mash-Off!