'Glee' Recap: First Kisses And Other Teenage Dreams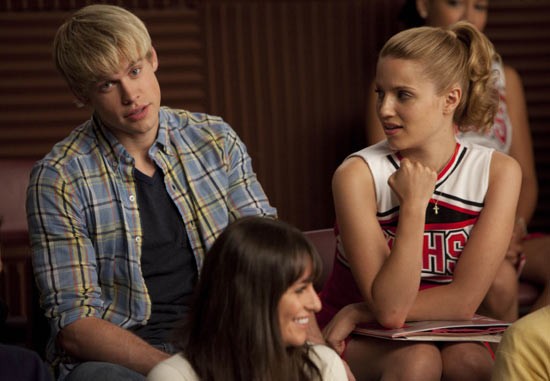 Finn and Sam are sexually frustrated, Puck is back, and Sectionals are a month away.  Also, Mr. Schue is rehashing last year's Battle of the Sexes assignment and Kurt is getting physically and verbally attacked. Ryan Murphy has talked about how this season will deal with homophobia and focus on themes of acceptance. Right from the start, we see that these issues will be at the heart of this week's "Glee."
Before we get there though, Mr. Schue switches up the assignment of the week. So now, the boys will be singing traditionally female vocals and the girls will sing classic rock anthems. Insert homophobic joke about feathers. Insert Beiste in Sam's anti-climactic fantasy. And we're about ready for a song, right??
"One Love" - After a splendid dose of Sue Sylvester – served up with references to Macaulay Culkin, Mary Kay Letourneau, and "Who's The Boss" we get just that. Puck and his post-juvi community service project, Artie decide to start busking in the courtyard.  In a take-off of the popular Youtube video which features street performers around the world singing this tune and playing instruments, Puck and Artie turn out to be pretty irresistible and raise $300 for their efforts. The fact hat Puck  wants to spend it all on clove cigarettes makes me realize how much I've missed the little delinquent. 
"Teenage Dream" - We meet up with Kurt at Hogwarts, a magical land where glee clubs are cool and boys name Blaine hold his hand and run down the hallways in slow motion. Everyone wears the same jackets and bust out with a capella versions of Katy Perry songs. This truly is Kurt's Teenage Dream and we couldn't be happier for the guy.
Tina and Mike Chang (Seriously, how does Harry Chum Jr get hotter and hotter every single week???) give us a bit of a twist on traditional gender roles, with the guy slowing things down and the girl needing to cool off. Naturally, Tina fights the urge to rip Mike Chang's clothes off by picturing Coach Beiste  –in a pink leotard and tutu – and accidentally says her name out loud.  In other Beiste bedroom fantasies, Sam's name-dropping has made Quinn think he's cheating on her with the Beiste. Mr. Schue gets wind of all this and tells them to cut it out. If Beiste finds out she's the resident libido crusher, she's probably not going to feel too great about herself.
Meanwhile, Kurt finds out Blaine is gay and Hogwarts has a zero tolerance harassment policy. Given the way Kurt's been feeling over at McKinley, Blaine's stories of leaving and finding acceptance are pretty powerful. Even more powerful though, is the rest of his speech, about standing up and refusing to be the victim, no matter how much the haters try to knock you down. There's something about the way that "Glee" delivers these "very special episode"-type moments that seems heavy-handed, until you realize that's exactly the point.  Subtlety and nuance are secondary to the show's potential to educate and inspire social change.
Still, the show is called "Glee" and there's nothing better than a Brittany and Santana double date to bring the element of joy back to the episode.  Puck and Artie propose the opposite of that and the dopey Cheerios play right into their hand. After enduring Will's moronic decision to tell Beiste that she's the anti-Viagra and the best birth control on the market, we join the foursome at Breadsticks. Puck's telling a suspenseful story about a time that he said "Leggo my eggo" and Artie seems like the perfect protégé until he goes ahead and pays his bill. 
"Living on a Prayer"/"Start Me Up" Mash-Up – The Battle of the Sexes sing-off gets underway, with the girls taking on Bon Jovi and The Rolling Stones to fulfull their classic rock requirement. The ladies are in leather and the choir room is tricked out with colored lighting trusses for a performance fronted by Rachel and Mercedes. The big confetti cannon finish comes courtesy of Sue Sylvester, who is happily celebrating the Beiste's departure.
Beiste may have run away, but a text from Blaine gives Kurt the courage he needs to face his tormentor. The fact that this leads to Kurt's rival giving him his first kiss was more shocking to Kurt than anyone else. It wasn't the Teenage Dream he had hoped for and the bully went right back to being a homophobic bully, but Blaine looks like a keeper and something tells us things might be looking up for the boy.
As for the Beiste, it turns out she wants to feel like a beauty and has "Never Been Kissed." Will plays the Micahel Vartan to Beiste's Drew Barrymore and kisses her. It's awkward and we hope it never happens again. Sorry Beiste. It's not personal.
"Stop! In the Name of Love"/"Free Your Mind" Mashup – Performed by the Beiste-y Boys, a new group formed for the sole purpose of apologizing to  the football coach they've completely insulted. Beiste herself scores points for seeming so totally unimpressed by the display of showmanship in front of her before letting the kids know that she's touched by the gesture. All's well that ends well, but this year's Battle of the Sexes clearly goes to the girls.
Next week, Gwyneth and Umbrellas!!! We can not wait! Can you? Who do you think won this week's Battle of the Sexes sing-off? Which kiss were you more shocked by? Let us know!