'Glee' Recap: Bumpy Road To Regionals Gets 'Funk'y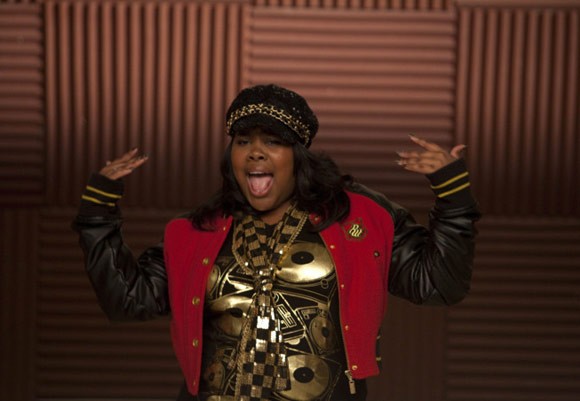 Shue gets divorced, Rachel gets egged, and Quinn finally cracks in this pre-Regionals 'Funk'-isode. Everything is building towards next week's finale and the twists and turns just keep coming in an emotional rollercoaster that sets the stage for a high stakes showdown between our beloved glee club and the reigning show choir National Champions, Vocal Adrenaline.

'Another One Bites The Dust'
Jesse leads Vocal Adrenaline in a tight performance of the Queen song, effectively ending his relationship with Rachel and crushing the entire glee club's spirits in the process. Toilet papering the choir room and launching this emotional warfare are both psych-out tactics that successfully work to send New Directions into a deep funk. 

Even the seemingly unfunkifiable Mr. Shue is rattled by the Sue Sylvester-assisted vandalism. Between watching his rival make plans to turn the choir room into a trophy annex and signing his divorce papers, Will is rapidly spiraling into the deepest depression of all.

Bring in the Boys, Bring in the Funk
Will's new no-regrets-fight-the-funk attitude motivates Puck and Finn to slash Vocal Adrenaline's tires, nearly getting them expelled. Then fresh off that bust, Will attempts to purchase some chronic lady merchandise from former Glee coach, Sandy Ryerson.

Fortunately, Sandy recognizes Will's instability, and instead of drugs offers a helpful hint that provides the key to getting the kids out of their funk. To hit back at Vocal Adrenaline without breaking any laws, the kids need to fight funk with Funk - as in Funk music – as in, Will's taking the kids to 'Funky town.' This genre is Vocal Adrenaline's weakness and seeing anyone pull it off will totally psych them out.

"This Cheese Smells Funky"
After making moves to liberate the students from their funk, Will figures out how he too can fight back. Cheesy come-ons, moody lighting, and a sexy serenade are the core elements of a Shue-Sue seduction scene. Despite her deep hatred for the man, Sue can't resist a Will Schuester in tight jeans and a leather jacket singing Chaka Khan's hit, "Tell Me Something Good." As a duo, Sue and Shue are a perfect mash-up of hilarious and adorable. Of course, the romance is a ruse, intended to humiliate Sue the way she humiliates everyone else.

Losers-n-Shams
Terri Schuester returns to end her sham of a marriage and start to become a better person. Now officially Will's EX-wife, Terri is also Finn and Puck's boss at Sheets-n-Things, where they are working to pay for their crimes against Vocal Adrenaline. After the guys lament their bottom-feeder status with a fun cover of Beck's "Loser," Terri sees that Finn is a lot like Will was at his age. In an attempt to work through her 'compulsive need to crush people's dreams,' Terri decides that in addition teaching him how to fold shams, she will help with his glee assignment. Taking it one step further, she promotes him to Assistant Assistant Manager, because 'she believes in him.' It's a small step, but one that would make Will proud.

Quinn Fabray and the Funky Bunch
Despite her decidedly un-funky exterior, Quinn insists on pouring her soul and anger into a Funk song.  She takes on James Brown's "It's a Man's Man's Man's World" with a group of very pregnant teens from the Unwed Mothership Connection panting and breathing in the background for extra credit. It's a little too ambitious and doesn't completely work, but a good effort nonetheless.  

Flipping funk expectations further, resident soul sister Mercedes joins Puck and Finn in an upbeat rendition of the Marky Mark and the Funky Bunch classic, "Good Vibrations." It's the show's latest homage to a one hit wonder from the 90's that doesn't disappoint anyone but Mr Shue, who unknowingly points out the flaw in his ex-wife's 'search funk in iTunes' strategy for finding a song.

Quinn and Mercedes' friendship has been growing stronger each week, and it feels like a well-earned moment when the two come together at the end of the episode and Mercedes invites Quinn to move in.

Don't Phunk With The Heart
Tough as she may seem, deep down Sue Sylvester is just a girl, standing in front of a boy, wearing a bright colored track suit. 

Getting stood up by Will sends Sue into such a serious depression that she stays in bed and cancels practice the week before Nationals, putting Cheerios' scholarships and self-esteem at risk. To undo the damage he's caused, Mr Shue visits the trophy kingdom that Sue calls home and convinces her to get up and bring home her 6th Nationals title. After a protein shake or twelve, Sue successfully brings home the gold and rubs it in Will's face. Her strength restored, she also gets a chance to give Will a small dose of rejection, telling him, as he goes in for a kiss that his 'breath stinks of mediocrity' and it makes her sick.

Rachel and the glee club make a comeback of their own with a funk-tastic performance of George Clinton's "Give Up the Funk" that scares Vocal Adrenaline's soulless automatons silly. It's a good start but Jesse (he's no Saint) James still deserves a lot more pain after that egg ambush in the parking lot. What the funk, Jesse? What are you doing to our girl – to your girl – to Ms Corcoran's daughter?!? This isn't over… we'll see YOU at Regionals!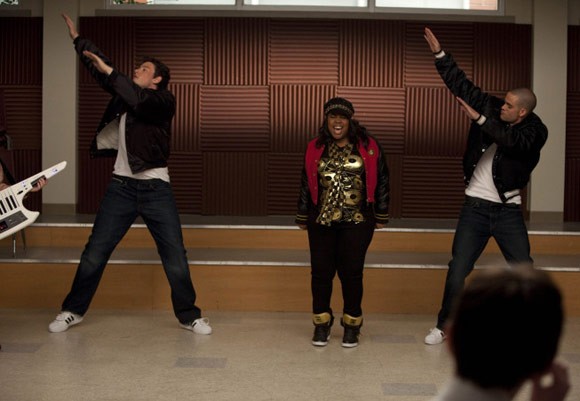 What did you think of this week's episode? Are you looking forward to the big showdown at Regionals next week? Let us know!