'Glee' Recap: 'Bad Reputation'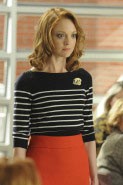 On "Glee," everyone gives a damn about their reputation. Teachers, students, and even Olivia Newton-John care about their image, and this week, everyone is trying to alter the way that they are perceived.
At the center of the episode are two mysteries that have damaged the Glee Club's reputation. #1 – Who posted Sue Sylvester's private 'Let's Get Physical' video on Youtube? #2 – Who created 'The Glist,' a ranking of the glee club based on sexual promiscuity? Determined to find out some answers without losing precious rehearsal time, Mr. Schuester assigns all the Glee kids the task of rehabilitating the reputation of a hit song that somehow became a joke.  For example, 'Ice, Ice Baby.' Matthew Morrison does a great job blending his inner Justin Timberlake with the early 90's nostalgia of Vanilla Ice.
We see different characters create, protect, and damage reputations to ensure their own social standing. First, the kids who didn't even make 'The Glist.' It was amusing to see Kurt, Mercedes, Artie, and Tina repeatedly trying to get down and dirty without even making the slightest crack in their angelic reputation. After busting into the school library wearing harem/hammer pants, carrying a boom box and breaking out with 'U Can't Touch This,' Brittany and the Un-Glisted Four were met by a smile from the librarian, who called them adorable. Although not necessarily the best entertainment for a Sunday service, this hilariously dressed five-some was not screaming teenage rebellion either.
The Hammertime posse's next effort to tarnish their perfect reputations is just as fruitless. They don't even get a slap on the wrist after coming clean as the culprits who posted the 'Physical' video that turned Sue into a Youtube sensation/national joke. Of course, Kurt & Company do not know that Sue has been contacted by Olivia Newton-John herself, who very much understands what it's like to be humiliated by a 'Physical' music video.
After an amusing phone call, Olivia Newton-John and Sue Sylvester collaborate on an updated version of the "Physical" video. The obese guys in spandex are gone, Sue Sylvester's on board, and it's all a ton of fun.
Reputations also impact some of the show's core relationships. During her brief stint as Emma Pillsbury's psychiatrist, Sue Sylvester reveals that her patient's dream guy has had both of the lead actresses from the original Broadway cast of 'Wicked'  at his apartment for either a make-out session or a sleepover. In her most secure moment to date, Emma publicly confronts the man-whore she has put on a pedestal for so long. When Will doesn't deny the accusations, he loses major cool points with his crush and gets branded the school slut.
Then there's Rachel, the Glee club's own Little Miss 'Look at Me I'm Sandra Dee.' After winding up at the bottom of the Glist, the virginal ingénue decides to make a transformative motion picture for her 'Bad Reputation' project. She enlists her current boyfriend Jesse, as well past flings and flames, Puck and Finn to star in a taped performance of "Run Joey Run." The whole thing is fantastic, from the melodrama of the dramatization to the campy objectification of all three of Rachel's men. Plus, the inspired casting of former Glee coach/Drama Club Director, Sandy Ryerson as the father who shoots Rachel's character with a shotgun is a wonderful touch.
Unfortunately, in her attempt to raise her rank on the Glist, Rachel fails to consider anyone else's feelings. Betraying Puck, Finn, and Jesse to elevate her social standing earns Rachel a new reputation, though not exactly the one she was going for. 
Finally, about that Glist… Mr Shue figures out that it was created by the one person who needed reputation rehab more than anyone, Quinn Fabray. The knocked up cheerleader has been quietly dealing with her new position on a much lower rung of the social ladder, and despite her kindness towards Mercedes last week, Quinn has always defined herself in terms of relative popularity.  Whether it's in her head or on a Glist, we all know she's been keeping track the whole time. I'd still like to hear more singing from her, but like last week, Dianna Agron's performance in a pivotal dramatic moment was impressive. The actress always brings a refreshing vulnerability to Quinn that has made her much more than just a one-dimensional character. Mr. Shue and Principal Figgins (still at risk for having his own reputation blown up by Sue at any point) agree to move on without punishing the Glist-maker.
The episode concludes with an amazing performance of 'Total Eclipse of the Heart.' Rachel and Jesse's ballet sequences gave the scene some variety, but the vocals were the star here. It was a great song for Lea Michele and even though Jonathan Groff is clearly the most talented singer of the three guys, the others more than held their own. The beginning of the song, when one by one, the guys tell Rachel to 'Turn Around,' set the song up as a poignant conclusion to their storyline. And the final shot when Jesse sang one last 'Turn Around, Bright Eyes' before leaving Rachel in the choir room alone… well, nothing left to say except that 'Total Eclipse of the Heart' is officially paroled.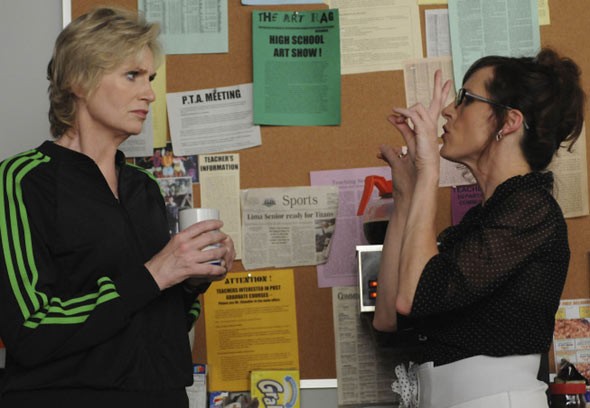 Additional Quotes & Notes
Brittany (on why she's dazed and confused in the choir room): I've been here since first period. I had a cold and I took all of my antibiotics at the same time, and now I can't remember how to leave.
Sue Sylvester Zinger: Will, I may buy a small diaper for your chin because it looks like a baby's ass
Sue Sylvester Revelation: I never really understood how hard it is to be laughed at. Particularly in slow motion.
Loved the reference to "Glee" fans' nickname for Puck and Rachel with the following exchange – Rachel: Do you know that when we dated, the rest of the school gave us a nickname? Puckleberry.  Puck: That's humiliating.*
*The fact that Puck says this while wearing a Phantom of the Opera mask that Rachel would totally have lying around her bedroom makes the Puckleberry moment even more awesome. Also loved how Puck tried to convince Rachel to make out with him by saying, "Jessie will never fully understand what it means to be a Jew."
Incorporating Vanilla Ice and MC Hammer's signature dance moves were fun, and we can only assume the kids (who at 16 would not have even been born when these songs were popular) picked them up after watching a lot of Awesomely Bad Video marathons on MTV
Nice to see the return of Sue's mentally handicapped sister, a character and relationship that goes a long way in humanizing the over-the-top (and undeniably awesome) Cheerio coach.
Not much to say about Molly Shannon's character yet, although anyone who introduces themselves and says, "I can't teach in Indiana because I have some "drug problems" that ended up involving some of my "shoot-ins" has definite potential.
Between her Rainbow Brite-like ensemble at the beginning of the episode and bedazzled owl sweater at the end, Rachel's fashion sense continues to amuse. It was great to hear another character remark on what is definitely a 'strange affinity for sweaters with animals on them.' Still, hideous sweaters haven't been this much fun since 'The Cosby Show!'
Overall a solid episode, that ranks high on my Glist! What did everyone else think?
Story by Elissa Farkas
Starpulse contributing writer