'Glee' Recap: 'Acafellas'

Despite being called "Acafella" and focusing on Will's attempts to form his own adult group, this week's episode was still all about the kids…particularly Miss Mercedes. The girl moved just as fiercely as any of her scantily clad cheerleader back-up dancers during "Bust Your Windows." Kurt may have broken her heart initially (by lying about loving Rachel), but when he finally confessed his homosexuality, Mercedes pulled through with a heartfelt and supportive (if not slightly sappy) speech about friendship and acceptance. With Mercedes left boyfriendless I really hoped this would be the episode she tears into "Somebody to Love" (featured in the promos that ran all summer) but looks like we'll have to wait for that song.
When Will decides to form his acapella group, he ignores his
Glee
duties. By the end of the episode he realizes he's better suited for inspiring youngsters than following his own stardom, and while this strengthened Will as a character, the storyline itself was a bit of distraction. Watching Acafella perform was like "The Full Monty" - without the nudity. Will stripping would be fine and dandy, but when accompanied by the misfit gang of Ken, Howard and thumbless/cough syrup addict shop teacher Henri (guest star Tony winner John Lloyd Young of Broadway's "Jersey Boys," whose voice went criminally underused) it's probably best no striptease were involved. Acafella resembled N'sync…if the band had been composed of
Justin Timberlake
and
The Three Stooges
. The group got an upgrade though when Henri and Howard bailed, and Finn and Puck stepped in. Puck informed us he only joined the group to bag some hot elder cougar ladies, but hopefully his participation means he'll tolerate Finn's enjoyment of glee from now on. I loved watching Finn still awkwardly learn to dance, particularly when Will used baseball metaphors to help get his hips swinging. The two are steadily forming a surrogate father-son relationship. Speaking of fathers, we met Will's own dad and mother (played by two more members of the Tony club,
Victor Garber
and Debra Monk). Will's dad confides that he failed to instill confidence in his son…but it's apparent that he did pass down his love of bow-ties.
Acafella's performance of "Poison" was kind of cheesy, but no where near as ridiculous as the guest star appearance by
Josh Groban
. Sandy gave Sue a run for her money as queen of the one-liners when describing Groban as "an angel sent from heaven to deliver platinum records upon us," but there's no way Groban would stop by a random Ohio high school's PTA meeting. The writers clearly had comedic intentions considering Groban only came to delivery Sandy a restraining order, but the whole appearance was pretty unnecessary.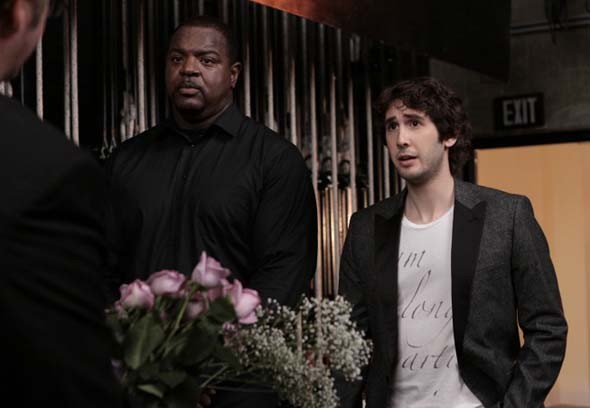 Josh Groban (guest-starring as himself, R) delivers some news to Sandy (Stephen Tobolowsky, L) © 2009 Fox Broadcasting Co. CR: Carin Baer/FOX
While Will worked on his own group, Quinn strategically convinced the glee crew to hire the much sought after choreographer Dakota Stanley. To do so they headed down to Vocal Adrenaline's home base, treating us to a stellar dance number to the tune of Duffy's "Mercy." The performance even rivaled the mind-blowing version featured last summer on "
So You Think You Can Dance
." Can the Adrenaline crew make an appearance every episode pretty please? The sadistic Stanley dished out insults to the group (save for Quinn and her cronies) even telling Rachel she needs a nose job. The ever vocal diva fervently responded with two words, "
Barbra Streisand
." I'd love to see Rachel take on a piece from "Funny Girl," particularly "I'm The Greatest Star" (YouTube it…it's Babs at her best.)
Luckily the club kicked Stanley to the curb and rediscovered some self confidence (even Quinn showed a hint of remorse) eventually leading to Kurt's coming out. I think it's safe to say that much of Glee's younger audience might undergo some personal contemplation after this.
Grade: B+
Bookmark our 'Glee' News page & check back for regular episode recaps & news!
Story by
Michael Mellini
Starpulse contributing writer