'Glee' Finale Recap: Blaine, Rachel And Co. Give 'All Or Nothing'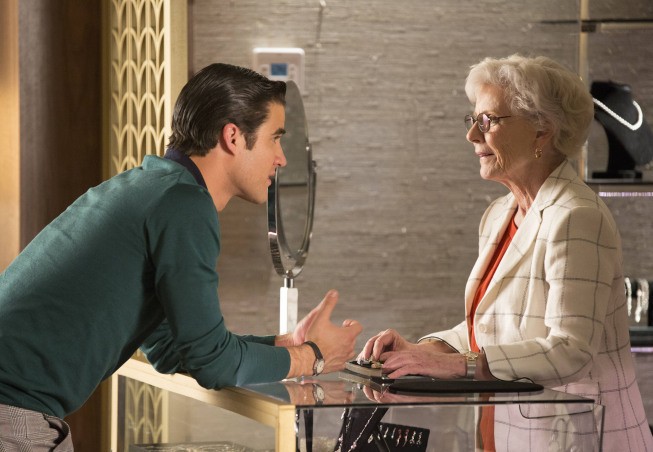 The season finale of "Glee" featured big guest stars, a big audition and a big competition—but the overall episode was a tad underwhelming and left some burning questions unanswered.
One of these major unanswered questions is in regards to Rachel and her big Broadway audition: Did she get the part? Despite being the show's leading lady, Lea Michele was noticeably absent for most of the episode. As Rachel, she gave a tearjerker of a performance for her final "Funny Girl" callback, but there are no clues that indicate the role is hers.
The start of the episode found Brittany in meeting with MIT advisors who were baffled by her intelligence. Despite her ridiculous 0.2 GPA, the MIT staffers believed Brittany to be the next Albert Einstein. "Glee" has had plenty of unrealistic storylines, but even the predictability of the "dumb blonde is secretly a genius" note seems overdone. Regardless of the believability of this plot point, this boost in confidence seemed to be the only explanation for Brittany's outrageous antics, which included quitting glee club, breaking up with Sam via text message and setting her Cheerios uniform on fire.
Brittany's unusual behavior prompted Sam to call Santana for help, and her arrival in Lima led to Brittany's heartfelt confession that she had received early admittance to MIT and would be leaving McKinley ASAP. (It should be noted that Heather Morris, the actress playing Brittany, is pregnant, and her character's sudden departure is likely due to the pregnancy. She can't be singing and dancing in her condition!)
While Brittany prepared to take off on an exciting new journey, Blaine stirred up some excitement of his own and decided to go engagement ring shopping for Kurt. Blaine has always been the most reasonable member of New Directions—last year Finn even called him the most well-rounded member of the group. But his sudden decision to propose to someone he's not even dating, and whose father adamantly refused to give him his blessing, seemed rather foolish. Blaine was being stupid, plain and simple. It didn't help that guest stars Patty Duke and Meredith Baxter, who played a lesbian couple that offered to advice Kurt and Blaine on gay relationships, decided to get engaged in front of the guy with marriage fever!
Elsewhere within New Directions, Ryder was fed up with the catfishing and refused to take part in the regionals competition until the person messing with him came forward. Marley admitted to being the one who was tricking him—which was an obvious lie she told in an effort to cover for someone else. It didn't take long for that someone else to come forth, with Wade/Unique admitting his feelings for Ryder, who then quit glee club. He eventually returned in time for the competition, but he vowed the end of his relationship with New Directions. I guess that makes two students who won't be returning to "Glee" this fall. Goodbye, Brittany! Adios, Ryder!
Other storylines that also took place:
-Michael Bolton was revealed to be the celebrity baby daddy of Sue's daughter. The two met at a concert in 1994 and rekindled their love last year for one night of passionate lovemaking. It may seem absurd, but with a show like "Glee," you learn to take the absurdities and just roll with.
-Despite the hype surrounding former "American Idol" alum Jessica Sanchez's guest spot as the leader of a competing glee club, Jessica only had about two minutes of screen time, and those few minutes featured some really bad lip synching.
-Glee club members Sugar and Joe finally came back to the screen, after being MIA for at least four episodes. Their absence is never acknowledged and they're only ever around when the glee club needs all 12 members. The "Glee" staff must have some on-set budget issues.
-Will and Emma finally tied to the knot in an impromptu wedding ceremony after the glee club's regionals win. Emma admitted that the stress of planning a wedding led her to fall apart earlier in the year, and getting spontaneously married was the perfect thing to do.
With the Rachel cliffhanger in full effect, "Glee" decided leave one more major question unanswered: Will Blaine really propose to Kurt? The final shot of the episode—and the season—featured Kurt and Blaine standing side by side with Blaine holding a ring box behind his back.
Memorable Quotes:
Sue: "Just in case you're wondering, Michael Bolton is a fantasic lover."
Sam: [regarding Blaine] "He wants to do me but we're just friends."
Santana: "Are we sure it's not just Britney 3.0 week?"
Brittany: "It wasn't until I walked in this room, and I joined this club, that I really started believing in myself."