'Glee' Finale: Let's Hear It For 'New York'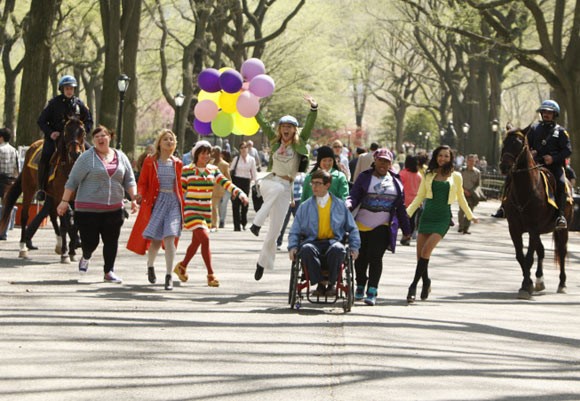 We made it! 'Glee' is in NYC to compete at Nationals and conclude a chart-topping, show-stopping, star-studded, post-Super Bowl time-slot scoring second season.
True to form, our favorite fictional show choir is in a situation that is about as absurd as the Broadway-obsessed Rachel Berry thinking that CATS is still open for business. New Directions has come to Nationals without a song or a set list and now they need to write a couple of hits in as many overstuffed hotel rooms.  Brittany, Artie, and Puck offer up the ditty, "My Cup," and there are enough eyes rolling around the room for someone to realize that they are high school student… in the Big Apple and un-chaperoned. It's time to make like the Muppets and take Manhattan!
The aspiring songwriters in New Directions hit the streets, singing  a mash-up of Madonna's "I Love New York" and "New York, New York" from On The Town. Along the way they drop by Times Square, Washington Square Park, Lincoln Center and Central Park. It's a number chock full of frolicking and fountains and all the things that an on-location musical montage demands.
While his students are keeping it squeaky clean (save for some pillow-fighting and a salad date at Sardi's), Will Schuester is singing a song from his alter ego Matthew Morrison's new album. It's an empty theatre but thanks to a kind-hearted stagehand, "Still Got Tonight" brings down the house.
Finn and Rachel's date gets a boost of adrenaline from Patti Lupone, which is followed by a magical street-side serenade of "Bella Notte" from Lady and the Tramp. It's the perfect, romantic comedy kind of moment that is so perfect that someone has to run away and ruin it, just to give us something to do for the next half hour.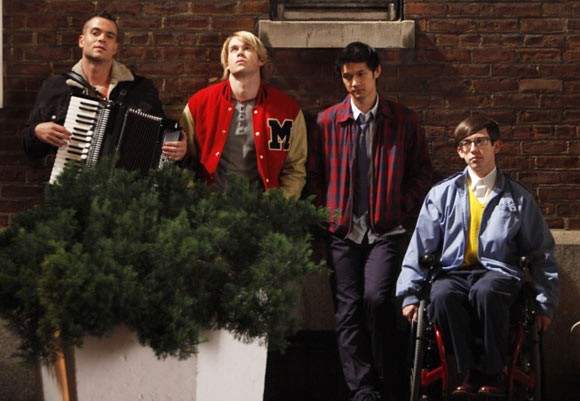 Over breakfast at Tiffany's, Kurt plays the sidekick, offering advice and adventure to the leading lady. Bold and confident in the big city, he sneaks them into the Gershwin Theatre, and onto the stage where dreams really do come true. A performance of "For Good" from the musical Wicked is a perfect duet for these characters. Kurt and Rachel's relationship has come a long way and this scene acknowledges the unique understanding they have of one another and their appreciation for the bond they share. Also, they totally kill it. When is Lea Michele starring in the movie version of Wicked?
Quinn turns heartache into haircut and Will tells the kids that his Broadway career is as much of a non-starter as this plotline. They've got songs to write and a competition to win – all in under a minute.
A sampling of the competition includes a show choir's take on Usher's "Yeah" and after making amends with Rachel in the ladies room, Vocal Adrenaline's Charice performs her own original tune entitled "As Long As You're There."
New Directions is up next and Finn has crafted a duet for himself and Rachel, who has incidentally told him that she's just not that into him. Cue the music and a nice melodramatic ballad about Rachel and Finn and all of TV's other will-they-or-won't-they couples. Jesse St. James arrives just in time to catch his girl in all her glory, sharing an impromptu kiss on-stage with her leading man. 
The awkward moment is salvaged by an energetic group performance of "Light Up The World," another original song from the talented high school songwriters. Jesse's convinced it's not enough to make up for the unprofessional post-duet kiss, and it turns out he's right. New Directions doesn't even make the top ten, which causes Santana to flip out to the point of needing subtitles.
Back in Ohio, Kurt's spreading the news of his New York adventures when Blaine unexpectedly drops the L-bomb. Naturally, Kurt kicks it back and because he's awesome announces that he's spending his summer writing a Broadway musical about Pippa Middleton called "Pip Pip Hooray." Sam and Mercedes' secret romance couldn't quite top that amusing reveal, but it was still a fun surprise. Brittany and Santana share a heart to heart and a friendly hug. Rachel finds Finn wallowing and they agree that giving up Nationals for a kiss was worth it and they've still got one more year to do it all again. Until then, what did you think of this past year? How'd you like the conclusion of Season Two? Let us know!