'Glee' Creator Ryan Murphy Q&A: All The Spoilers & Scoops You Want (Part 1)

At the Television Critics Association fall press tour, Fox presented a panel with the producers of Glee. Series creator Ryan Murphy revealed a lot about the upcoming season. A Britney Spears episode. A post-SuperBowl tribute to a yet to be named artist. Susan Boyle guest starring. Getting a mix tape from Paul McCartney.
After the panel, Murphy stayed to chat with the press giving a full rundown on what's coming up for the hit musical show. He elaborated on the above and dropped some new hints about all the characters and actors on the show. Here's your fix for Glee news before the show returns this fall.
Q: How many episodes are Idina Menzel and Jonathan Groff doing?
RM: I think Jonathan's going to do two in the spring. Kristen I haven't talked to about her schedule because she has to finish Promises, Promises. I'm actually writing another show for Kristen, a TV show.
Jennifer Lopez and Justin Timberlake have been rumored. Are you interested in them?
RM: Jennifer, yes, I'd love for her to do it although I don't know if this American Idol thing is happening and if she can. Justin, that was a kid's wish. I love him but I think somebody just said, "Do you want him?" And I think Lea said, "He's my favorite" and then suddenly it was that he was on the show.
Have you thought about casting Rachel's dads?
RM: I have thought about it but I don't think I want to do it this year. Lea's dream is that Elton John play one of her dads which I think would be hilarious. I won't do it this year. I'll probably do it next year.

Tell us more about the Britney Spears episode.
RM: I just started directing it today at five which is why I look like hell. She is arguably the most important female, other than Lady Gaga, of the last 10 years. We're sort of doing an episode about not only her music but about her public image. All the kids on the show, many of them went into singing and dancing because of her. Also at the heart of it, it's a show designed to show off the skills of Heather Morris who plays Brittany.
What's your experience with Britney's camp been?
RM: Great. It was her idea. I just think that she loves what the show is about, that the show's about paying tribute to pop culture in a very loving, respectful, kind way. She responded to that.
How will you handle the lesbian kiss between Brittany and Santana?
RM: I hate it on TV shows, there's one show that I won't name right now where it's like okay, why aren't these characters kissing? Don't they have a child? That's ridiculous to me. I don't understand that. I think if I would do it on my show, I would just have them do it in every scene and not make a big deal about it. I don't think that you have to announce a very special episode like weren't they doing back on Roseanne? It just seems so outdated and archaic to me and as a gay man, I would never do that. I would make it very organic and do it several times and not make it a stunt.
So what happens when Brittany and Santana kiss?
RM: I'm directing the episode where they're going to kiss a couple times and I think the key is to do it a couple times so that it doesn't seem forced.
How did Susan Boyle come about?
RM: Susan is on the same label as us and I guess is a fan of the show. She's coming out with a Christmas album so the story I want to do in our Christmas episode is to have Kurt give her some sort of fantastic makeover and have her sing a song that's from her album on the show.
Is she playing a character?
RM: Yes, she'll be playing a character.
Would you want to do "I Dreamed A Dream" in some way as an homage to that?
RM: No, I have to figure out what she's doing. I have to ask her what she wants to sing. We just did that song already.
What's her comfort zone on the acting?
RM: I don't think I'm going to give her monologues and arias but I think she's a character and I love what she represents. I think what she represents is what the show represents so I'll just talk to her and say, "What are you comfortable doing?"
Is it Paul McCartney you're talking to for the Superbowl episode?
RM: No.
Then who is it?
RM: I can't say. I can't say. I can't say.
Is Javier Bardem coming on the show?
RM: It is true. He requested it. It's in the back part of the season. Javier watches a movie a night every night. He didn't even ask me. I think he bought the first 13 on DVD and became obsessed with it. He said it was like crack. And he's such a ham that it totally makes sense to me that he would want to sing and dance. I love him. I think he's a sweet, sweet guy and very funny.
Is he playing himself?
RM: No, I think he's going to play some demented Spanish rock star substitute teacher something. I don't know, we haven't figured that out yet.
Will there be a love interest for Jane Lynch?
RM: I like that Jane Lynch is promiscuous on the show. I think no man can tame her.
What about a woman?
RM: I haven't talked about that with Jane but I think that Sue is straight although I think a couple glasses of red wine, you don't know with Sue.
How is Heather Morris handling her own episode and character development? Is she feeling some pressure?
RM: No, Heather's thrilled. It was her dream. Heather was a backup dancer for Beyonce and her dream was to be an actress. She's such a great actress because she doesn't really know what she's doing in some weird way. She's so natural and funny. I did a big scene this morning with Heather. I think she's got incredible craft but she's very, very excited. She has a great work ethic. All dancers do.
What was the decision to back off of the reality series?
RM: We're doing the reality series. It's for season three. We had auditions. We're keeping them going for another five months and it's going to be on Oxygen next summer. For the third season, we'll be adding new characters. That's what that show will be about but not for this year.
Is there a way back into the show for Jessalyn Gilsig's character?
RM: Yes, Jessalyn's character is coming back. She does not want to be divorced and she's decided in the middle of the first 10 to seek vengeance by going after someone that would make Will incredibly jealous.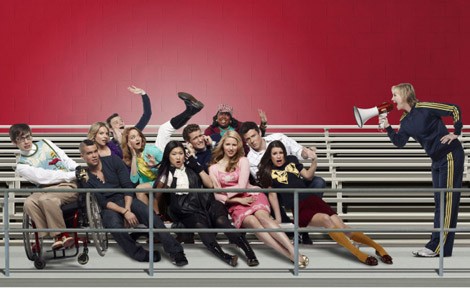 Has Kurt's boyfriend been cast?
RM: Has not been cast. That's one of those parts that I have to find an actor that I really love and go after. I haven't found that person yet but I'm doing it this year.
Does Chris Colfer have a wish list?
RM: No, Chris doesn't want to talk about kissing. He's too shy to have an opinion on that.
Any chance you'll have Julia Roberts come on Glee since you directed a movie with her?
RM: No. I mean, Julia's a fan of the show. She's visited the kids but she doesn't work very much. It's just enough for me that she stops by and says hi to the kids.
Have you cast the Rocky Horror parts?
RM: No, but my favorite thing to do is to torture the boys and claim that I don't know who's wearing those gold lamay briefs because now they're all on diets. They're all in terror that I'm going to tell them that they're the one who has to get naked.
Will we see "Time Warp?"
RM: We are going to see "Time Warp."
When does that episode air?
RM: It's Halloween. It's the third week in October. It's episode five. I'm directing it.
Is the show with Kristin Chenoweth a spinoff?
RM: No, I've always wanted to do something with Kristin and Kristin is a good, close friend of mine obviously. So I'm writing a half hour musical comedy specifically for Kristin because it's like if you can sing like that, I want her to be the star of her own show where she sings.
Could we get an American Idol crossover show?
RM: No.
Not even an audition?
RM: No.
Did Fox float the idea of judging American Idol to you?
RM: Yes, they did actually.
How did that go?
RM: I cannot comment on that.
Is it true Kurt's going to be a prom king?
RM: Yes. I want him to run against Lea Michele and then see who would win.
Would you want to do a big screen musical?
RM: I would do a big screen musical. They've asked me to do a Glee movie and I said no. But I've been offered a couple things recently that I'm talking to people about. It just has to be original.
What about a concert Glee movie?
RM: Yes, I would do that. I think I would that just because there are so many kids particularly who love the show and we can't go to every city. So I think we would do sort of a big Glee concert. I think we're going to shoot that next year.
(Come back for part 2 of the interview tomorrow!)