Glamazon Superstar RuPaul Dishes On Season Five Of "RuPaul's Drag Race"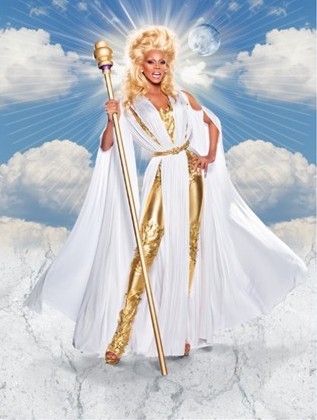 Starpulse's Jeza Belle caught up with ultimate 'Diva-licious' Icon RuPaul for an interview that centered on Season Five of the hit series "RuPaul's Drag Race." While we had the ear of the Goddess, we found out the star's favorite makeup tips, personal definition of success and how RuPaul got started in drag.
How long have you been in the business of discovering new talent?
We are going into our fifth season of the show.
How many would-be stars auditioned for Season Five in total?
I've seen just under a thousand submissions for RDR.
What can we expect to see from the contestants this season?
The queens are younger and more ambitious. They have no qualms about appearing ruthless in their quest to win.
Which qualities are you looking for in this group of drag stars?
Charisma, uniqueness, nerve and talent.
When it comes to casting the show, whose opinions did you trust most when selecting the right artists?
I trust my gut.
You have had such an impact on the world through your shows. What is most rewarding in nurturing new talent? 
Introducing these brilliant, courageous queens to the rest of the world. RDR airs in 25 different countries and my girls perform all over the globe. 
It can't all be glitz and glamour. Which part of the show is the most difficult for you personally?
Saying "sashay away" to a contestant after she lipsyncs for her life.
Many drag queens can attribute their success directly to you. Who discovered RuPaul?
I discovered myself.
Most of us saw you in your Supermodel of the World video. How did you get started performing in drag?
It was a complete fluke. I starred in a punk rock band and as a onetime gimmick we decided to do a performance in drag and the reaction I got from the audience and from people in the band let me know that I was onto something that was uniquely my own.
What advice would you give to aspiring drag queens or those just starting out?
Learn your craft. Know thy self.
What's your motto?
If you don't love yourself, how in the hell are you gonna love someone else?
What is it about a drag queen that everyone loves?
The small child in all of us is attracted to drag because we love bright, shiny, colorful things. And on a metaphysical level, the truth is we are all in drag. Basically, we are God in drag pretending to be small human beings. 
Who are some of your favorite stars, past and present?
Cher, David Bowie, Diana Ross, Kylie Minogue, Mo'Nique and Beyonce 
We read about stars today going off on haters through Twitter and Instagram. Do you follow what others say about you?
Dear God, no. A sure fire way to court emotional disaster is to read what other people have to say about you.
If I didn't Wiki you, I'd have no idea you were 51, as you look damn good! Is it all illusion or hard work?
Yes and Yes. I work hard to keep my body together but at the same time a big part of my work is creating an illusion and I'm an expert at that.
Looking good costs so much money though. What have you cut from your budget due to the tight economy? 
I've cut nothing from my budget. I've never gone crazy with my spending but if I want something, I'll get it.
Give us all some advice. What's an inexpensive easy routine or product that can drastically change a women's facial appearance.
For both men and women, an eyelash curler is a must. It gives your eye the appearance of being well rested and wide-open. 
For lips, what does RuPaul prefer, gloss or color?
I prefer both plus a lip-liner.
What are your feelings about shapewear such as padded underwear for an eye-catching booty? 
I believe you should use whatever you can to get the silhouette you desire: padding, shapewear or control top pantyhose.
A star has to look good. Who is your favorite designer?
I can honestly say I really love them all but some items work better on my body than others. The key is knowing what works for you.
What are the 5 make up mistakes you see everyday women making?
1. Over plucked and misshaped eyebrows.
2. Lining the bottom half of the eye without doing the top.
3. Wrong foundation color or too much foundation.
4. White or frosted liquid eye liner.
5. Inability to blend the edges.
What are 3 make up must-haves for any woman of color?
1. A warm foundation color that doesn't look gray.
2. A matte creme that goes underneath foundation.
3. An eyelash curler.
Getting back to the show; who surprised you in this season of RuPaul's drag race?
Each of the contestants was handpicked by me based on the potential I saw in their audition. Without giving away too much, I'm not surprised by any of them, I think they are all genius.
How can they step up their drag game?
All of the contestants are the top American "showgirls" working today, but they could really take it to the next level by learning how to articulate their thoughts and learning diplomacy.
You have been so successful, what's your secret?
The secret of success in every field is redefining what success means to you. It can't be your parent's definition, the media's definition or your neighbor's definition. Otherwise, success will never satisfy you. Personally, I experience success when I enjoy what I'm doing. I love the creative process even if the end result isn't embraced by anyone else.