Give USA Network's 'Royal Pains' A Try

On Thursday, June 4, a new original series on USA will premiere titled
Royal Pains
, starring
Mark Feuerstein
,
Paulo Costanzo
, Reshma Shetty, and Jill Flint. I got a chance to see the pilot episode a little early, and the show might not quite join the "Characters Welcome USA" slogan right at first. Hank Lawson (Feuerstein) is not as memorable or charismatic as
Adrian Monk
or
Michael Weston
, but he's a good man you want to like put in an unfair position.
As a rising star in the medical world, Hank makes a call to save the life of a young man instead of focusing on a powerful hospital patron. When the wealthy patient dies and the young man lives, Hank is black listed from every major hospital and then (to add insult to injury) dumped by his fiancee Nikki. Poor Hank, that'll teach you to try and do the right thing!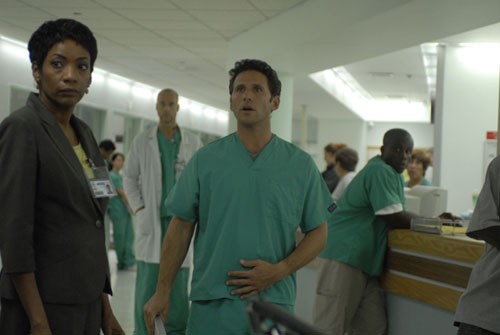 Image © NBC Universal, Inc.
It is up to Hank's little brother Evan (Costanzo) to try and help him, and Evan thinks the only way to accomplish this is to bring Hank to the Hamptons to have a fun time. Evan's a smooth talking accountant who tries to be more confident than he is, but he means well despite his somewhat shallow nature. He gets them into an important party in the Hamptons, but Hank makes more of a splash when he manages to save a girl at the party. The resident doctor assumes it is drug related, and Hank manages to get the right diagnosis. Hank is something of a special doctor, able to utilize every day items around him in emergency to save the patient. This quick, random thinking is what made him so good in the first place.
Hank is offered the job as a resident "house" doctor in the Hamptons by the mysterious millionaire Boris (
Campbell Scott
), basically on call at all times to the rich and dysfunctional. He is not interested at all ... at first. Then he is called in to an emergency car accident from two young teenagers, Tucker (Ezra Miller) and Libby (Meredith Hagner). While Libby starts out as the one in pain, Tucker turns out to be the one in serious trouble, and Hank manages to save his life. He also bonds with the eccentric couple, especially with Tucker who apparently lives in the Hamptons without his absent father most of the time. Hank is also contacted by Miss Newberg (Christine Ebersole) who has a problem with her breast implants, and she is constantly getting plastic surgery.
Throughout these two major medical problems, Hank refuses to start a business even though he can't turn his back on their injuries. Evan encourages his brother to open a concierge business - HankMed - and he is joined by Divya (Reshma Shetty) who wants to be Hank's physician assistant. Although wealthy and polished herself, Divya is interested in medicine and has stashed medical equipment in her car.
Hank is ultimately swayed by the Hamptons thanks to a very pretty doctor named Jill (Jill Flint). The administrator at the somewhat downtrodden Hamptons hospital, she respects Hank and doesn't seem to mind him becoming a concierge doctor. If anything, she seems to think it will keep the crazy rich people from coming in to her ER for no reason! There's a little love spark between Jill and Hank and genuine sweet chemistry between the actors, so that may be interesting to develop as the episodes go on.
In the end Hank agrees to move on to Boris' property with Evan and to become the friendly neighborhood doctor. The pilot was a strong one, with sharp writing and amusing actors, plus several wacky characters to enjoy. Most of USA's leading men are the weird, quirky types with sane people around them, but "Royal Pains" seems to be going the other way. Hank is the straight man, and the rest of the cast is just a little off. Whether or not this will work is yet to be seen, but it was a good solid opening. USA has shown itself to be a power horse in the shows it chooses, such as "
Monk
," "
Psych
," "
Burn Notice
," and "
In Plain Sight
." I'm willing to give "Royal Pains" a try due to my faith in the channel, and if you're a fan of their other shows, chances are this new series may be just up your alley.
"Royal Pains" premieres June 4th at 10/9 Central on USA, directly following "Burn Notice."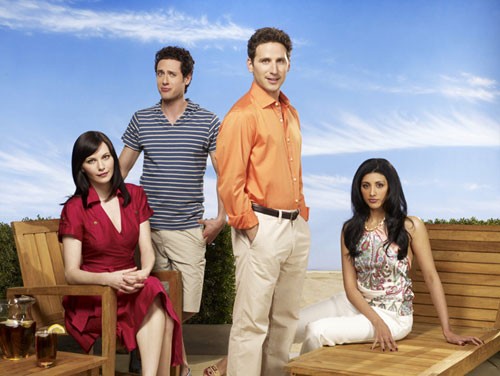 Image © NBC Universal, Inc.
Story by
Chelsea 'Dee' Doyle
Starpulse contributing writer