Giuliana And Bill Rancic Show Off Their New Baby Boy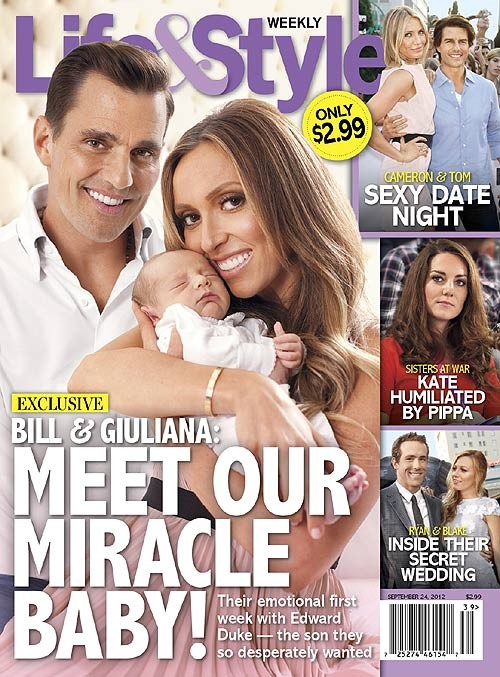 Giuliana and Bill Rancic welcomed their first child into the world just two weeks ago, and now the couple is showing off their little bundle of joy in the new issue of Life & Style magazine.

A surrogate mother gave birth to little Edward Duke Rancic, who the couple call Duke, on August 29 after the couple struggled for years with fertility issues.

They turned to surrogacy after Giuliana's 2010 miscarriage and her breast cancer diagnosis last year, which led to a double mastectomy and doctors telling her to wait at least five years until she tried to get pregnant again.

And now the E! News host is happier than ever.

"I had always heard that when you have a baby it completes your life — and it's true," she tells Life & Style. "I love my baby, and I love my new role."

Following the baby's birth, Bill tweeted, "The 'Duke' has landed! Edward Duke Rancic was welcomed into the world last night at 7lbs 4oz. G & I feel blessed beyond words... We did it!"

"I couldn't believe that all those years of struggling and the tears actually paid off," Giuliana says. "Every (IVF) shot, every doctor's visit — in the end, when you're holding your baby in your arms, you forget it all, and it's worth it."

Bill adds, "It's amazing how maternal instincts have taken over, and Giuliana's just supermom. It literally brought tears to my eyes the other day watching her with Duke."

The baby shares his name with both Guliana and Bill's fathers and "Duke means leader."

For all the exclusive pics of baby Edward Duke, pick up this week's issue of Life & Style, on newsstands now!