Gisele Bundchen Sparks Public Breastfeeding Debate With Instagram Photo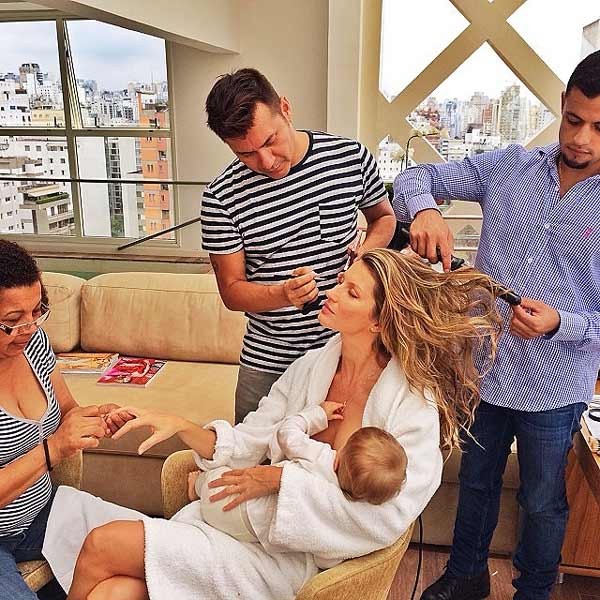 Gisele Bundchen posted an image of herself breastfeeding one-year-old daughter Vivian to her Instagram page on Tuesday.

The supermodel sat in a makeup chair clad only in a terrycloth robe while her assistants styled her hair and did her makeup for the day's photo shoot for Oral B in Sao Paulo, Brazil.

"What would I do without this beauty squad after the 15 hours flying and only 3 hours of sleep," she wrote.


Naturally, the image has gotten some backlash for reigniting the whole 'breastfeeding in public' debate. Bundchen is a big proponent of breastfeeding, and in 2010 she told Harper's Bazaar magazine that it should be the law.

"I think breastfeeding really helped (me keep my figure). Some people here (U.S.) think they don't have to breastfeed, and I think, 'Are you going to give chemical food to your child when they are so little?' I think there should be a worldwide law, in my opinion, that mothers should breastfeed their babies for six months," she said.

The comments caused a firestorm over the hot topic, and a day later she clarified her comments on her blog, saying, "My intention in making a comment about the importance of breastfeeding has nothing to do with the law. It comes from my passionate beliefs about children. Being a new mom has brought a lot of questions. I feel like I am in a constant search for answers on what might be the best for my child. It's unfortunate that in an interview sometimes things can seem so black and white."

Currently, Bundchen and her husband, New England Patriots quarterback Tom Brady, are building a mansion outside of Boston, Mass.

The couple want the 14,000 sq. ft. home finished as soon as possible and are employing around 100 laborers on the project, according to TMZ.com.

Gisele's photo caused an international stir over whether or not public breastfeeding is an acceptable practice.

Former Playboy model Holly Madison is one of the many who have come to the defense of the supermodel for the photo.

"I think what Gisele did was awesome," she told London's Daily Mail. "She is braver than I am. When I first had the baby I said 'I'm going to breast feed the baby and set a good example,' but it's not fun or easy to do that."

Madison says she usually looks for an inconspicuous space to breastfeed daughter Rainbow Aurora, but it's not possible all the time.

"The last time even though I was totally covered, with a baby blanket, people still walked by slowly and they craned their necks to look," she says.
Actress Emmy Rossum is also in Gisele's corner. She posted a parody image of the photo while getting ready to shoot scenes for her hit Showtime series "Shameless"